It's finally December and although you may not feel the 'chill' outside, I'm sure you are going ga-ga over the Christmas lights. As always this a month full of fun things to do, visit, experience in the best city on earth, Florence Italy. Yes they paid me to say that (kidding). To me, it is always a bit of a magical time of year not really because of Christmas, but more because the city feels full of locals doing their holiday shopping, getting coffee and hot chocolate on Firenze's cobblestones streets.
In addition to your regular dose of 'fun' there are several Christmas markets that you certainly want to check out, along with a few of my favorite film festivals from the annual film festival currently going on at the Odeon cinehall. I will be adding more events throughout the month, please keep checking back, and check out the city's official roster of events here. If I missed anything, please let me know and I'll add it to the list!
---
Museum Openings Christmas & New Years
Always a popular question, if you are in Florence over the holidays read this when it comes to planning museum visits during Christmas week.
December 24: State museums (see below) will be open on Christmas eve.
December 25: Museums such as the Accademia Gallery and other state museums (Uffizi, Davanzati, Medici Chapels, Bargello, Pitti Palace, Orsanmichele will be closed on the 25th.
*Note that the Reali Poste at Uffizi will be open from 10-7pm and free, for the special exhibition "Never Seen Before – The Russian icons at the Uffizi.
December 26: State museums will be open on the 26th, 'Santo Stefano'
Befana: January 6: Uffizi and Accademia will be open for longer hours (8.15am-6.50pm).
You can see the rest of the museum openings, all over Tuscany via this awesome article by Leila Firusbakht for Tuscany Arts or this article by Catriona Miller via The Florentine.
Midnight Mass
For this interested in Midnight Mass on Dec 24. There is one at 11.30pm at the St Mark's English Churc on via Maggio 16, Florence, otherwise check out the Solemn High Mass of the Nativity on the 25th at 10.30am always at St Mark's.
Tourism Fair | BTO 'Buy Tourism Online'. When? Dec 2-3rd. Where? Fortezza di Basso. An important fair in the Region of Tuscany which has made it to the 7th consecutive edition of a "lovemark" that identifies scientific value and an unconventional format, a mix that renders the event a truly unique one of its kind ( I don't really understand what that means either). Basically for those interested in travel & tourism with interesting speeches and talks from big influencers in the industry. I did enjoy the social media seminars and meeting & greeting fellow digital strategists in Italy. Learn more about BTO via their official website .
Contemporary Art & More | 'Contemporaneamente' on via maggio (oltrarno neighborhood). December 4-24th. The cool thing about living in the best area of the city is that I have easy access to fun events like this. Contemporaneamente is all about showcasing some innovative, contemporary art, culture and events on one street in Florence. Read the full program and see all that is happening here. My top picks are below
On December 4th at TETHYS GALLERY, Via dei Vellutini 17r, there will be a special photography exhibition 'Rain' by Andrea Bigiarini at 6pm. Winner in the USA for Iphonographie technology.
December 14th the stores & galleries on via maggio will be open later than normal as part of a special initiative on this day in the oltrarno. I say, make a date out of it, pop into Via del Te' on via di santo spirito for a little caffeine infusion than walk around this area to see what's going on! And send me pics because I will be out of town! read more here
Caroling around Oltrarno, followed by mince pies and Gluhwein
Sunday December 14 from 6pm. ST. MARK'S ENGLISH CHURCH
Via Maggio 18
www.stmarksitaly.com
Nine Lessons and Carols, followed by mince pies and Gluhwein
Wednesday December 21th, at 11:30pm.ST. MARK'S ENGLISH CHURCH
Via Maggio 18
www.stmarksitaly.com
Cinema | 'FESTIVAL DEI POPOLI' International Documentaries in its 55th edition which you can check out until December 5th. The films will be played at the Odeon Cinehall, Spazio Alfieri, Auditorium S. Apollonia, Istituto Francese di Firenze, Mediateca Regionale Toscana. To check out the films playing, click here.
Open Studio | Inauguration of the Nora Jewelry laboratory. December 5 h.6pm – 10pm. NORA is a new shared laboratory, a space for experimentation and sale. On this day there will be a group exhibition and cocktail inauguration, www.officinenora.it
OFFICINE NORA
Via dei Preti 4r – 055 9758930
info@officinenora.it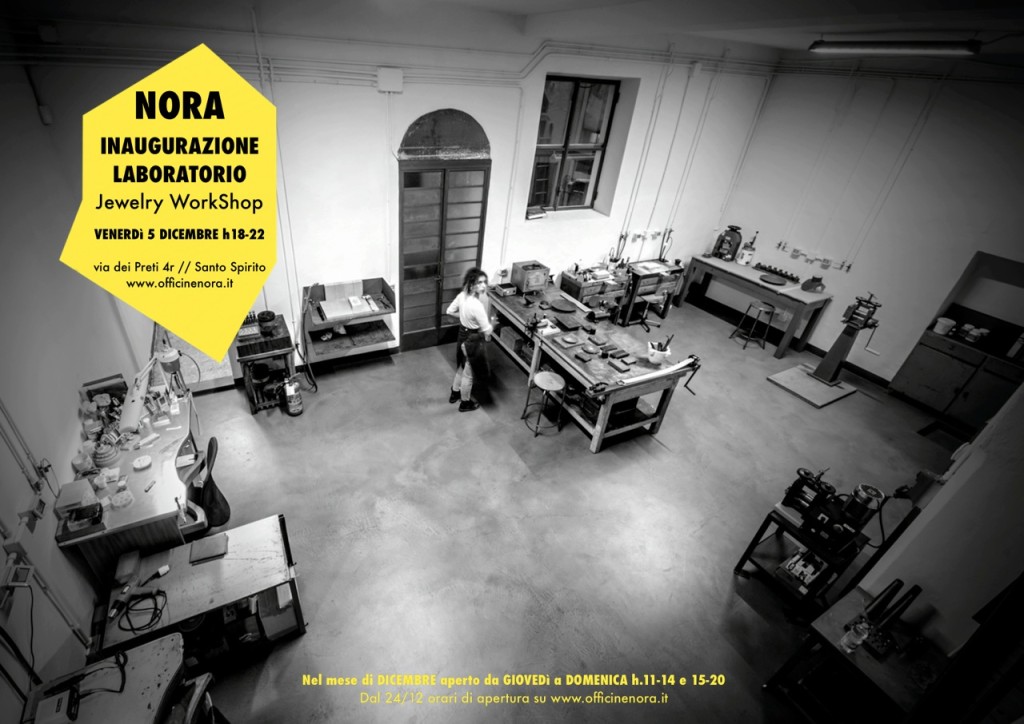 Cinema | 'River to River' Indian Film Festival. When? Dec 6th – December 12th Where? Odeon Cinehall, piazza strozzi. Part of the 50 Days of International Cinema occuring each year in Florence. This particular section is one of my favorites and I highly recommend having a 'night at the movies' to check out these awesome films. Official website
Christmas Tree | 'Lighting of the Tree' December 8th at 5pm. A holiday in Florence (Immaculate Conception) the grand Christmas tree will be set up in the magnificent piazza del duomo. An official public ceremony will take place with the mayor of Florence, along with the set up of a Nativity scene. Both will remain until January 6th.
Ballet | Swan Lake. Where? Verdi Theater, when? December 8th, 4:45pm & 8:45pm. This beautiful Russian ballet is one that many of us enjoy seeing during the Christmas holidays. Tickets & more info here.
Free Events | The Claudio Ciai Foundation has launched the "New Florence Project" – an international art collaboration and exhibition along with free events open to the public in support of the Foundation's Mission. (more more about the foundation here) . Sixteen illustrious artists from New York City and Florence have participated in the "New Florence Project," creating a mix between the Florence Duomo and the city of New York. All of the original artworks have been published in a vibrant "New Florence Project" 2015 Calendar, available on the Foundation's online Shop.The original artworks will be on view from December 11-13 at the Sala delle Leopoldine (Piazza Tasso n.7, Florence, Italy). In addition to the art exhibition, the Foundation will be hosting a series of unique events free and open to the public during this period. Email  FondazioneClaudioCiai@gmail.com.
Kick off event for the "New Florence Project" exhibition and 2015 Calendar, featuring music, wine, food and shopping for accessories and holiday items What? Restorative massage demonstrations When? Afternoon TBC Introductory yoga class Thursday, December 11
Friday, December 12. Morning (time TBC) Road Safety Seminars Hosted by: Eugenio Giani, Region of Tuscany Governmental Official Associazione Lorenzo Guarnieri,Associazione Gabriele Borgogni Police Department.
 Saturday, December 13. Afternoon. Seminars discussing developments in treating brain injuries. Associazione Italiana Afasici – testimony of brain injury survivor. Stefano Ianne, Music Therapist. Pasquale Fedele, Brain Control. Neurologists. Logotherapists
Rock Concert | The final day of a special 'Rock Contest' of emerging bands organized by Controradio with the support of the city & the region. Where? Auditorium FLOG, Via Michele Mercati, 24b. When? December 13th. info.
Cinema | 'Finestra del Nord' Finnish Film festival at the Odeon Cinehall. When? December 13-14th. Personally, this is one of my favorite sections of the International film festival in Florence. All of the films I have seen were interesting and perhaps a bit dark. The full program can be found here.
Art | 'Domenica del Fiorentino' December 14th. Free Museum entry (civic museums) for residents of Florence and the surrounding province. One Sunday a month. More info here.
Winter Fun | Florence Winter Park is open now until march, 2015. Where? OBI Hall, Lungarno Aldo Moro. A fun place for both kids & adults along the Arno river in Florence. You can ice skate, go 'snow-tubing' and the equipment can be rented directly there. Check out the official website 
Block Party | where? the 'other side of the river' neighborhood from Pitti – S.Spirito, when? Sunday, December 14th. (there are more events going on from earlier this month as part of a cool initiative called 'DILADDARNO' , read more here) but you really want to head to streets via maggio and via romana on this day to see stores and galleries open up their doors and showcase cool gift ideas plus it is a chance to get to know some store you might have never visited.
Concert in the Church | Gregorian concert at the Basilica of Santa Croce, December 20th at 9pm. More details here 
Music | Christmas Concert, December 24th. at the Verdi Theater (via ghibellina) at 5pm. Daniele Rustioni will be directing, Music by Beethoven, Brahms, Dvorak. For booking & more info.
Christmas Markets
Since we all are slightly obsessed with Christmas, I decided to not only dedicate an entire section of my December events posts towards 'Natale' themed events but also include a handy map for you to find these markets on the go.
il Weihnachtsmarkt Christmas Market in Piazza Santa Croce. When? December 3rd December 21st. 10am – 8pm. This is the biggest of Florence's Christmas markets and the one we all love instagramming. As usual you can expect Christmas-themed gifts, Polish sausages roasting, gluhwein and pretzels galore. It's always a good time!
The Immaculate Conception, When? December 7 -8th. Two-day fair with crafts and food. 9am-8pm, piazza SS.Annunziata, Florence, www.lafierucola.org.
AILO's Annual Christmas Bazaar. When? December 8th 10am -5pm. Where? Le Pagliere (ex Scuderie Reali) Viale Machiavelli, Florence. Every year, the proceeds from this event are donated to about a dozen local Florence charities. Stop by and do some Christmas shopping, all while helping the local community!
'Christmas at the Fortress'. When? Dec 11- Dec 14th, 11am – 8pm. This year there will be a special Christmas market at the fortezza di basso with all sorts of gifts on sale, special activities for kids as well.
Unusual Market | Christmas market. When? Dec 13th and 14th. Where? Tasso Hostel Hotel, via Villani 15, Florence. You will be able to pick up  notebooks, glasses, homeware, books, new and vintage toys, illustrations, clothes, vintage accessories, candles, perfumes, magazines, vinyls, kids clothing and lots of great food! website
Nataleperfile Market at Palazzo Corsini, When? December 12-13th from 10am to 9pm , 12-13 and on December 14th, 10am – 7pm. Where?
Lungarno Corsini 8, Firenze. One of the prettiest and best Christmas markets in Florence run by a charity FILE, Fondazione Italiana di Leniterapia Onlus
Christmas Fierucola, When? December 21. Where? Piazza Santo Spirito. 9am – 7pm.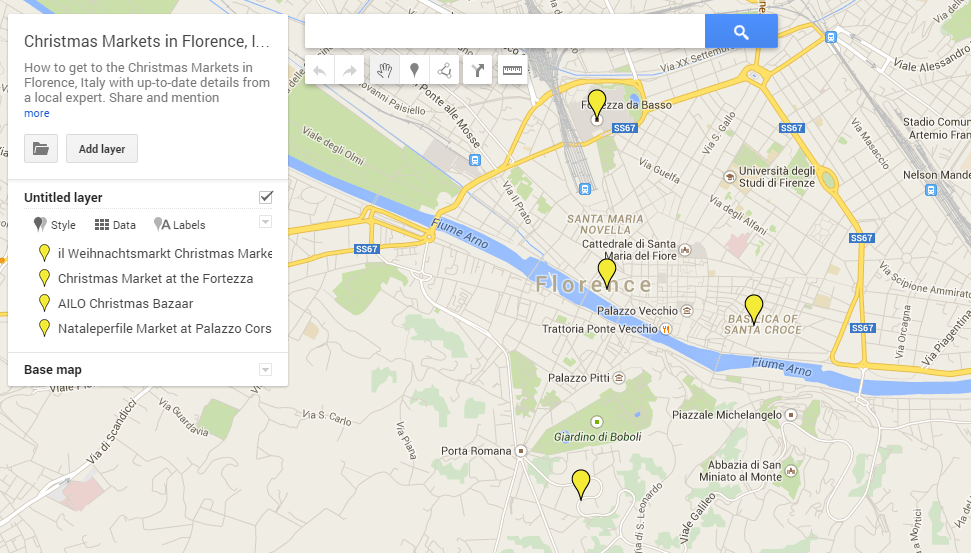 New Years Eve 2014/2015 in Florence
I always get a lot of questions about what to do in Florence for New Years Eve. The past few years, I have been away from the city during this period (this year included) but I will add events here as I find out about them during the month, so check back periodically.
What I will say, is that every year they have open-air concerts in many squares of the city which are a great place to bring in the New Year after dinner. There will be no official fireworks this year because of the economic crisis and for the safety of pets who get very scared at the loud sounds.
I also highly recommend checking out this list of New Year's Eve events all over Tuscany by the official blog of the region. To see more events (in Italian) read this article by Urbanpost.
Open air concerts in Florence
Open-air concert in Piazza della Signoria: Giuseppe Lanzetta will be leading the Ukraine philharmonic orchestra who will entertain with polkas and waltzes by Strauss around 11pm. Free of Charge
I highly recommend heading to the DJ and music set on Dec 31 at Caffè Letterario at Le Murate (free). Piazza delle Murate, 50122 Firenze. It's a great area, I'm sure it will be lively and fun and probably less 'crazy' than the other open-air concerts.
Cascine park – think blues music by singer Mario Biondi
Piazza Annigoni, electronic music and more for the younger scene.
Piazza della carmine. This is a new addition from the comune, here they will be playing jazz.
New Year's Party at the Obihall,Via Fabrizio de Andrè, along the lungarno in Florence with Sven Vath. From 10pm – 5am You can dance the night away in this pretty cool space. 55 euros (after dinner) or 100 euros for a table (reachable by bus), book your spot by emailing info@capodannofirenze.net. More details can be found here 
Dinner at Santo Graal on via romana. I love this place that not many know about since it's not next to the Duomo. Innovative and creative menu in a nice location. Check out their New Year's Eve menu here. 80 euro tasting menu. Ristorante il Santo Graal – Via Romana, 70r – 50125 – Firenze – Tel.: +39 055 2286533
Also make sure and check the list from The Florentine on what to do for Christmas and New Year's Eve. Catriona always does a wonderful job at compiling cool events.
If you happen to be in Rome for Christmas or the New Year, check out this great post by Katie Parla!