Truth be told, I have been obsessed with Lisbon ever since we got back from our #winteroadtrip from the south of France to Portugal this past December. Five days of living it up with my partner in crime and I really think we got the most of our vacation, it was non-stop walking, eating, drinking and experiencing. This city is full of all sorts of interesting corners and neighborhoods, a place where your first impression is drastically different from your last. The contrasts here are so abundant, but that's what I love about it.
With romance in mind, here are my thoughts on how to spend a romantic day in one of my newest favorite cities in Europe, Lisbon – Portugal. 
Stairways to heaven 
The bad news about Lisbon is that its a city full of hills, steps and stairwell. If you plan on being the world's fittest citizen, just forgo public transportation and move to the center of Lisbon and get around on foot. The good news is that the steps often lead to incredible views and pretty neighborhoods that make huffing and puffing like a 70-yr-old well worth it. Here is just one of the incredible views by Bairro Alto.
I recommend starting your morning by heading to a local café to order a wake-me-up coffee or um bica in Portuguese. To see all of the various ways you can order coffee in Portugal – check out this awesome blog post by Emma's House in Portugal which saved me from just speaking Italian the entire time.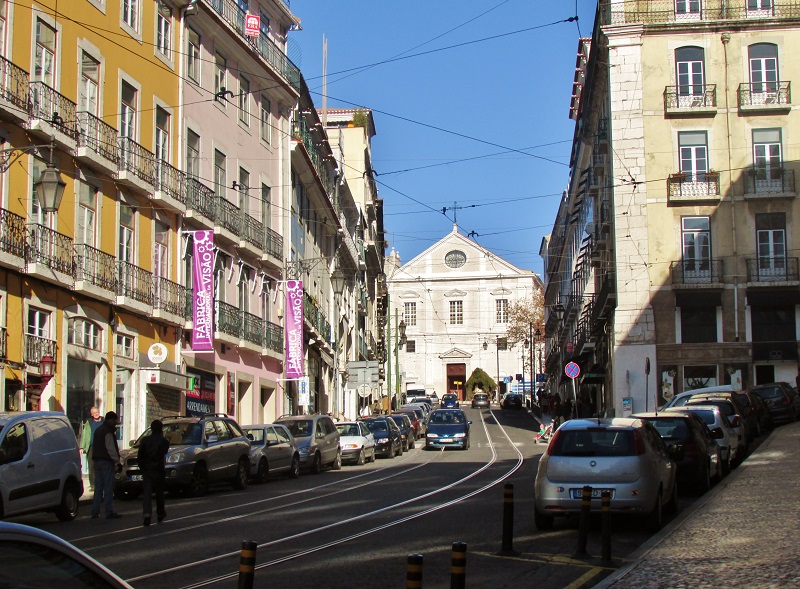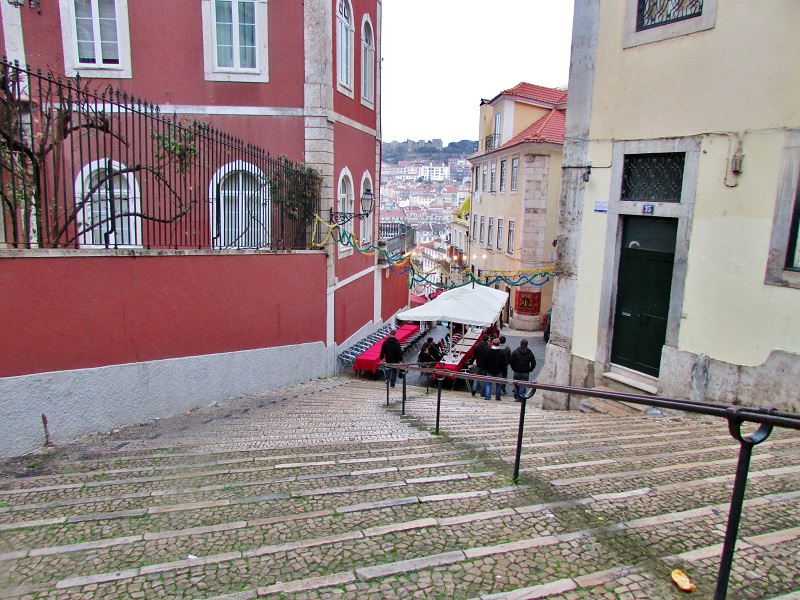 Explore with the Explorers
No trip to Lisbon would be complete without visiting Belem. Nothing beats a romantic walk along the waterside while marveling at the amazing architecture of the Tower of Belem and the Jerónimos Monastery. *Plus if you go on Sunday, you can enter some of these famous attractions for free before 2pm. Stop for a snack in the center of town to chow down on one of Lisbon's famous custard tarts sprinkled with cinnamon, the irresistible Pastéis de Belém.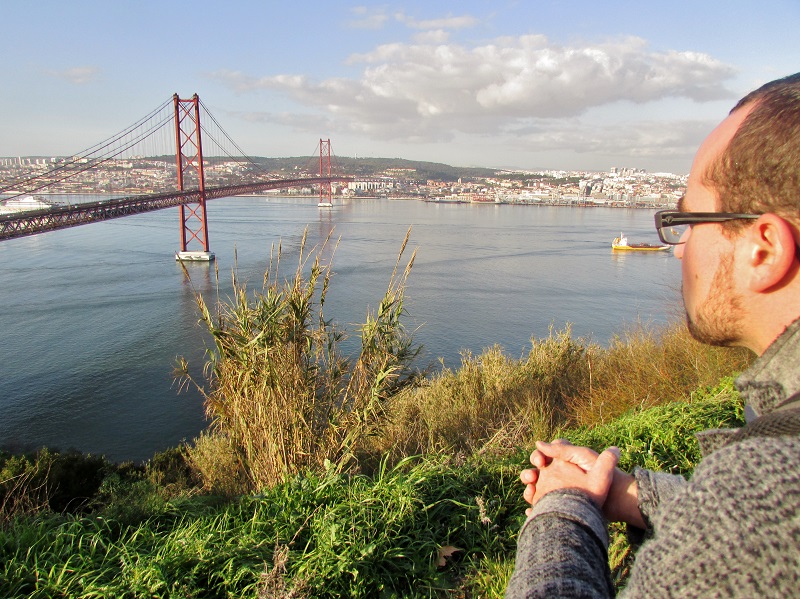 Get Lost in Alfama 
The oldest neighborhood of Lisbon, we spent one lovely afternoon getting lost in the windy streets of Alfama (on the slope between the São Jorge Castle and the Tejo river). When Lisbon was dominated by the Moors, Alfama was the whole city (it was totally destroyed in 1755 during a devastating earthquake that toppled everything. Now its the perfect place to see another side of Lisbon, one where Fado music reigns king and small squares and pretty streets seem to never end. The castle is the perfect panoramic point to see the whole of Lisbon, start on the top and slowly, but really slowly, make your way down below to get the most out of this awesome area. Ps. This is also where the famous 28 tram is located (beware of pickpockets), hopping on the elevadors are also really fun.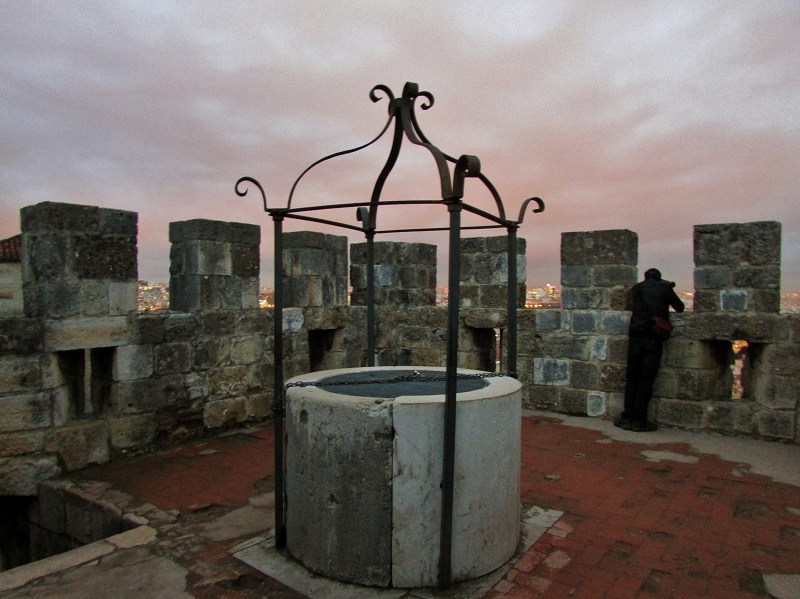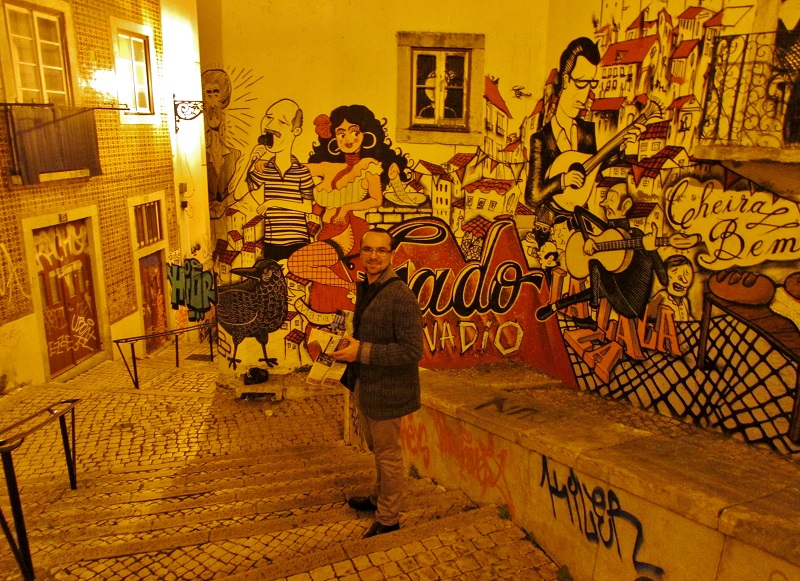 View from the Castelo de São Jorge
Visit the Museu Nacional do Azulejo (National Tile Museum)
I know you might imagine that visiting a tile museum seems a bit lame, but since this city is known for its pretty blue and white ceramic tiles – we thought why not see the importance of these beautiful azulejos?. To our pleasant surprise, we really liked it, plus we combined this visit with a trip to the modern area of Lisbon, Parque das Naçõe which is easily accessible by bus (just ask the driver for when to get off etc.).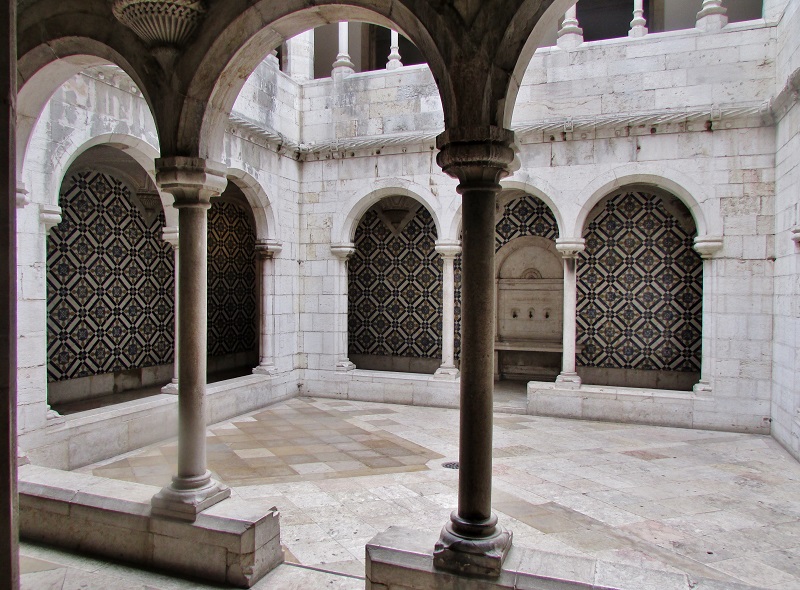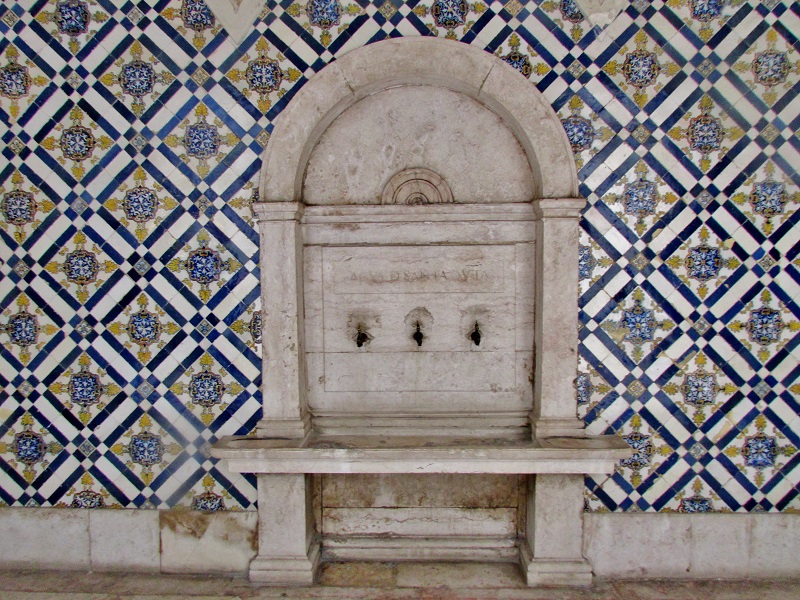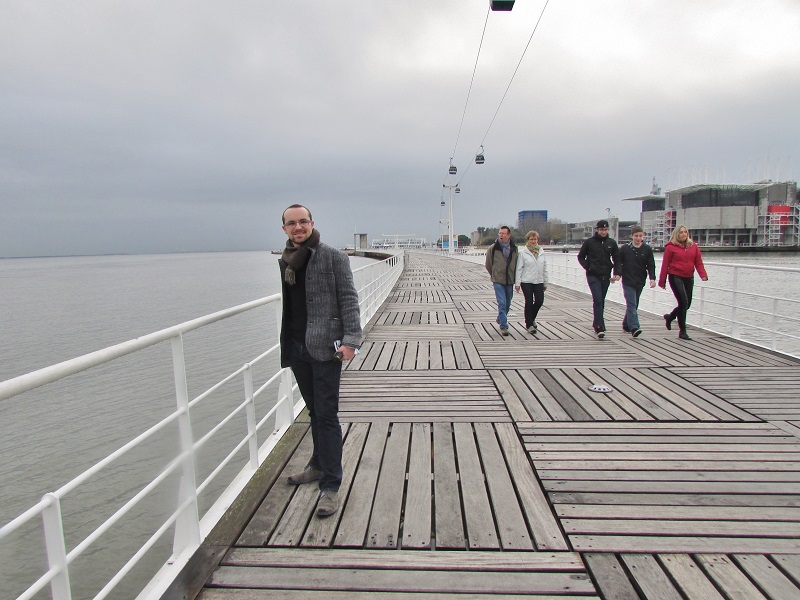 Walking along the pier in Parque das Naçõe 
The museum is located in an ex-monastery building ( a bit out-of-the-way and in an 'eh' area) and on Sundays, it's also free to enter until 2pm. It contains an impressive array of tiles from as early as the 15th century along with displays on how they're made.  A must see is the panoramic scene on the top floor of the museum containing 1300 tiles, 23m (75ft) in length, of Lisbon's cityscape made in 1738, prior to the Great Earthquake. Plus the café located on the ground floor in a pretty courtyard is absolutely worth a stop for coffee or a snack.
Shop till you drop 
This city is a mecca for shoppers. While I am not your typical crazy-for-shopping kinda girl – I can appreciate a good selection and this city is awesome for browsing. Maybe it's because I am with a European guy that I think shopping is actually romantic but when you are both excited about finding unique items to take home with you, it kinda is! My favorite areas were Chiando and Baixa, and items to look for are beautiful ceramics and tiles, soaps, sardines in vintage cans and so much more. For you fancypants out there, a walk down luxury street Avenida da Liberdade is a must. We took home some beautiful tiles and coasters that now make my living room a lot snazzier.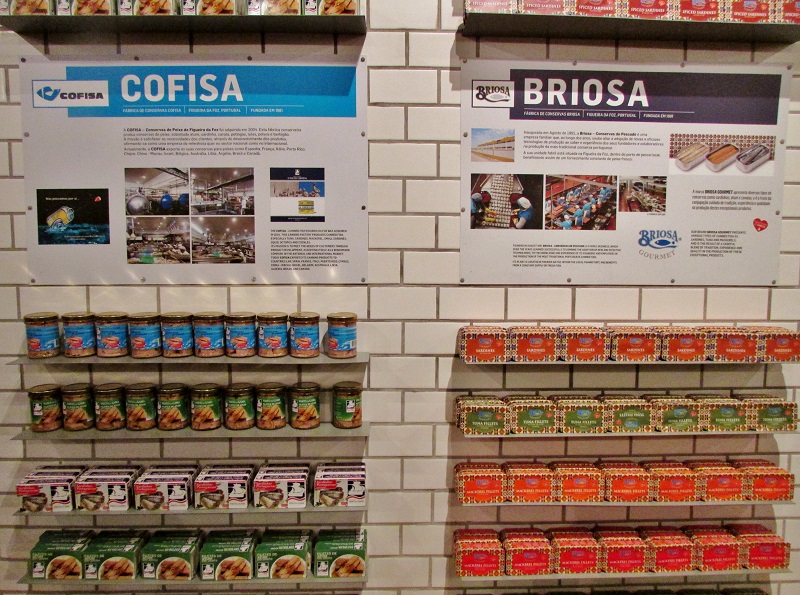 Eating a traditional 'steak' sandwich in a trendy part of town (Príncipe Real)
We had some really fabulous food during our five days in town and one of my favorite memories was on our last day, January 1 of this year – looking for a place that was open for dinner. We stumbled upon a great restaurant, O Prego da Peixaria, serving hipper versions of Portugal's famous steak sandwich, the prego. You could have yours stuffed with fish, veggies and even cheddar while sipping a ginger mojito out of a bell jar, a perfect way to keep up your energy to walk up and down the hills! For more foodie tips in Lisboa, check out this post!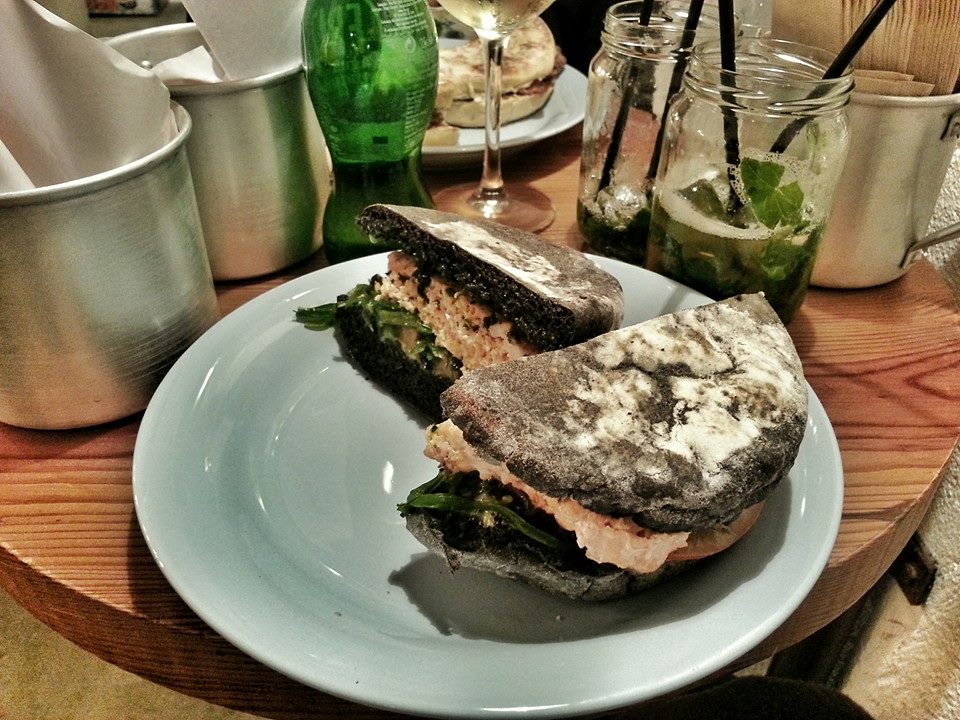 Finally, end your romantic day with a night (or two) at Casa Amora guesthouse
We stayed in a variety of accommodation to see what Lisbon had to offer and I have to say I was so so excited when we got the chance to stay at Casa Amora, a beautiful guesthouse in one of my favorite areas of town, Praça das Amoreiras, for our last night in the city.
This charming B&B dates back from the early twentieth century, featuring a petite bourgeoisie architecture exterior, an interior patio where you have breakfast and themed rooms, all renovated in 2012. It's one of those place that looks even better in person than the photos, this is a MUST stay.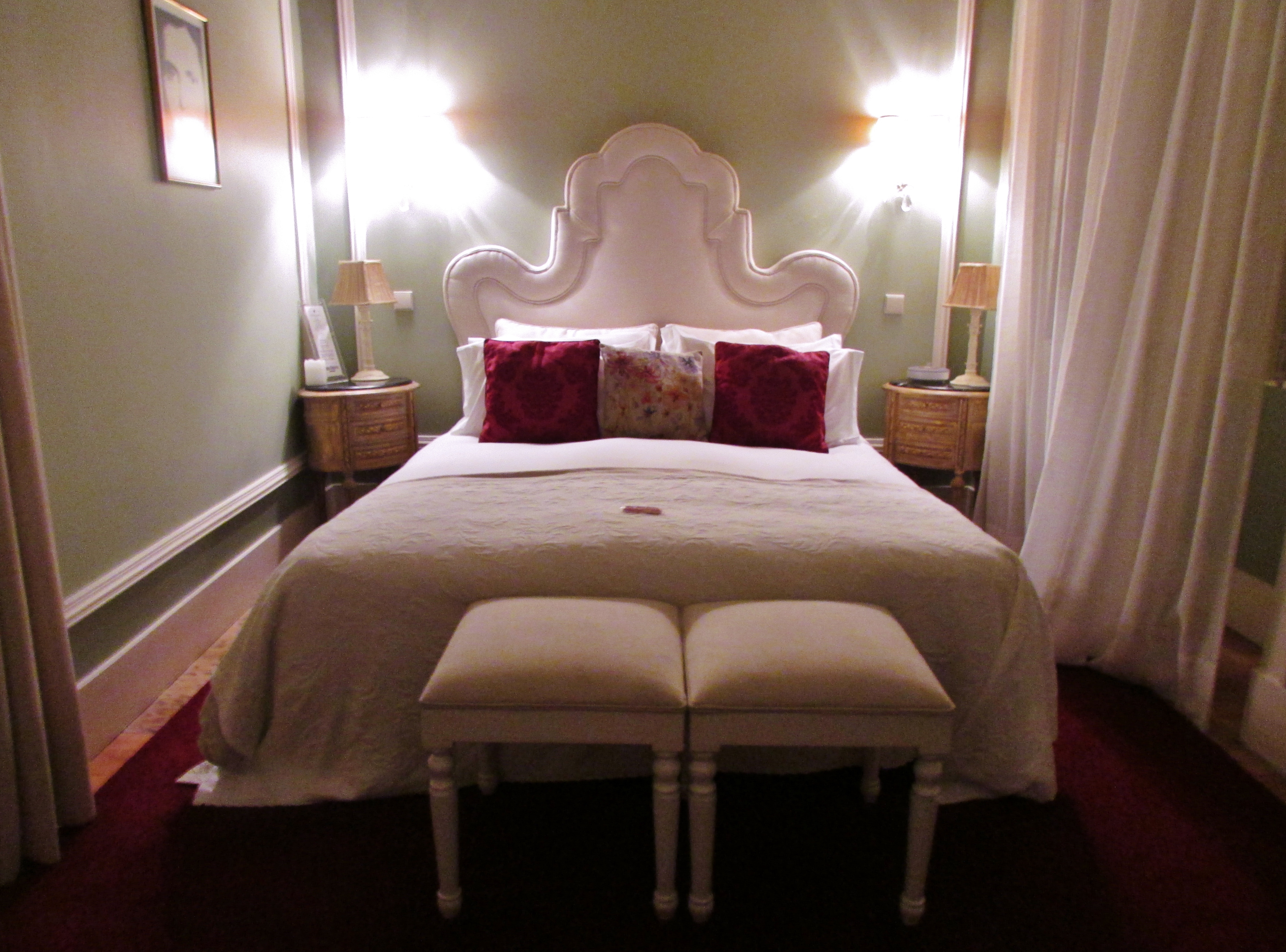 Our room named after Amália Rodrigues – Rainha do Fado ("Queen of Fado")
Honestly our room was so charming I had to almost stifle a little scream. Romantic, comfy, impeccably clean, this was the perfect oasis for our last night in Portugal. Talking to Juan and Luis was like meeting family, our communications both online and in person were informal and friendly, they explained that Casa Amora is a guest house and that the kitchen and shared living spaces were open for public , adding that if we skipped breakfast, they would be very unhappy ;-). Not to worry with this girl!
Breakfast on the terrace, I was in LOVE with these plates
A kitchen of my dreams, breakfast was top notch
Rates range from €90 – €130 depending on the room etc.
Address: Rua João Penha 13, 1250-131 Lisboa, Portugal
Phone:+351 919 300 317
*Disclaimer – My Frenchy and I were guests of the Casa Amora in Lisbon for one night but trust that all opinions and thoughts 100% are my own. 
Ps. Sintra absolutely deserves a place on romantic Lisbon but since it's a bit outside of the city, I decided it deserves a post of its very own, so stay tuned. I think the important think to note is when your own vacation, leave the stress at the door and just have fun. Expect the unexpected, and roll with whatever comes your way, that's what we did and by night three – we felt like travelling pros. Here is a scene from New Year's Eve shenanigans..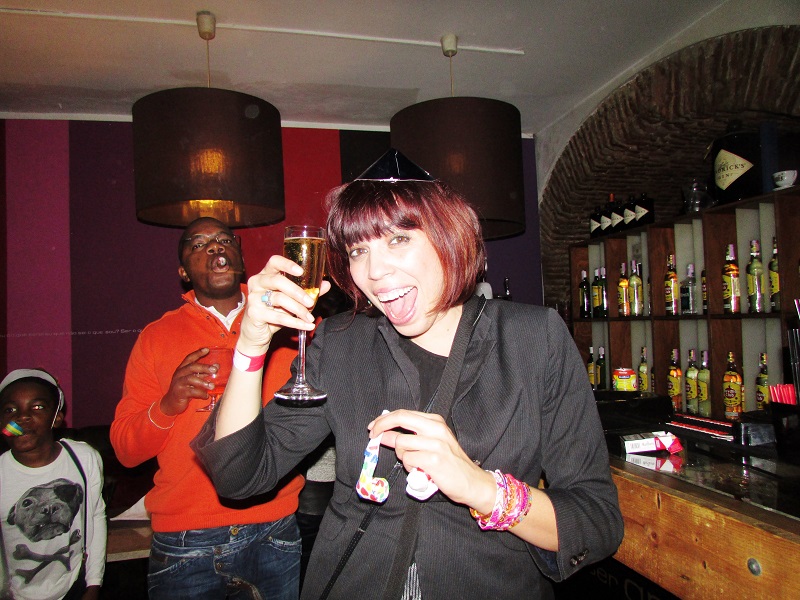 Now it's your turn! If you have had the good fortune of visiting Lisbon and agree that it is indeed romantic, what would you recommend?