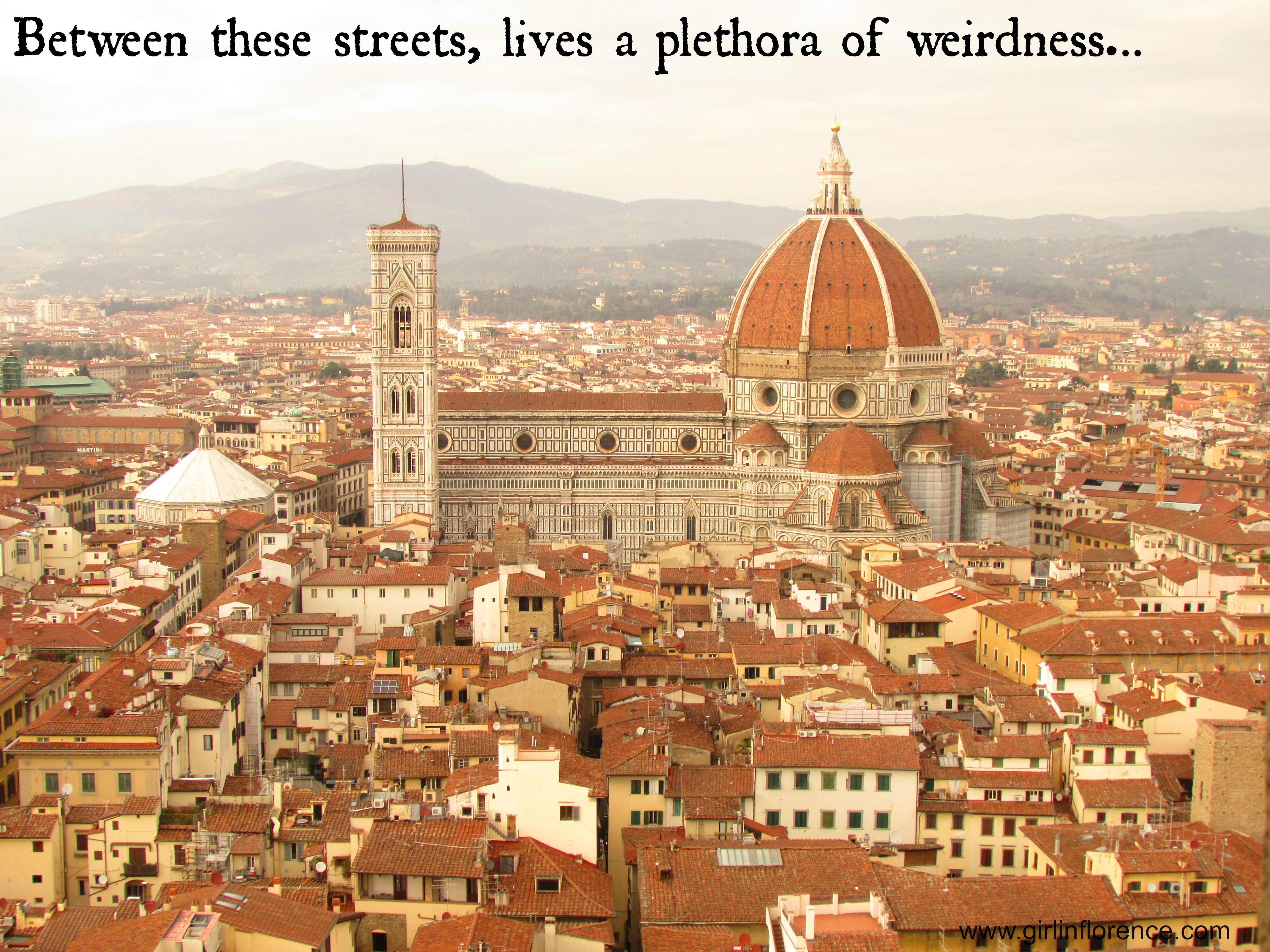 After the success of 'Odd in Florence' part one featuring weird things I spotted around town, I knew i had to make this a continuous series. Of course the pretty pictures of panoramas overlooking Florence, foodporn that will make anyone fail their diet and colorful vintage fiats won't stop anytime soon. But just like a high school lunchroom – there is enough room for everyone and everything on this blog ;). You could reason that I like to keep my inconsistency consist ;-).
So let's delve into the weird, random underworld of Florence that to me: feels all warm and snuggly.
Exhibit A: The vacuum that would blow no more
I am pretty sure this was an honest citizen leaving this behind for someone lacking a vacuum of their very own, that or said vacuum lost quite an epic battle, in any case it's still on via romana if anyone is interested.
Exhibit B: Losing my Religion 
A kind lady in studded high-heeled boots and spandex handed me this pamphlet about how I can be 'born again' to repent for past sins..sigh
I just said 'buon san Valentino. .'
Exhibit C: Where dreams go to die, or at least catch some sort of infection 
If you are a straniero in Florence, chances you know where this photo was taken. If you guessed the questura di firenze on via della fortezza during a visa renewal, you would be correct. This guy clearly was catching up on some much-needed sleep in this calm, quiet and very clean place. 
Exhibit D: Floating priest's love a Big Mac 
This priest was either lost or reveling in one of the many tasty [barf] treats at the central train station's McDonald's. I thought about asking him if he needed help but was pretty sure he was an expert in mind control. 
Exhibit E: Ronald McDonald after an episode of Extreme Makeover 
Always sticking to a McDonald's theme – I am so American! While walking down via romana, seriously this street is full of surprises, I spotted a Ronald McDonald that apparently was kidnapped by some Kiss Fans. Hello children!
Exhibit F: The 'secondo' (second course) you never asked for.. 
While having lunch with my friend Yasmine at a Chinese restaurant, we spotted this pigeon walking around in the dining room. The best part? NO one cared… hungry? 
Exhibit G: Made in Italy? 
Less weird but more why? Apparently some genius felt the need to put tepid wine into these glasses and cover them in foil. In fluorescent lighting. I just can't.. 
Exhibit H: Mark Zuckerburg vs. A Dumpster in Florence
Well someone had to say it. Meanwhile, the stain???
Exhibit I: The evolution of technology 
So that's where I left my log! and My computer! Wait what the h**?
Exhibit J: The Jersey Shore never seems to go away
You know when he left the house that morning, he knew he was going to break some hearts by that same afternoon. Is that hair gel in your pocket or are you just happy to see me? 
Exhibit K: E.T. phones home
'Voglio tornare a casa' (I want to go home) – I imagine many share his sentiments after a trip to the questura di firenze during permesso renewal time. See exhibit C. 
Exhibit L. Is someone overcompensating for something? 😉 
Spotted in this spot nestled near the Ponte Vecchio, this massive monster truck looks a tad lost in the our Renaissance city. However, in time of an apocalypse, this would absolutely come in handy. 
Exhibit M. Scuba-diving men Renaissance men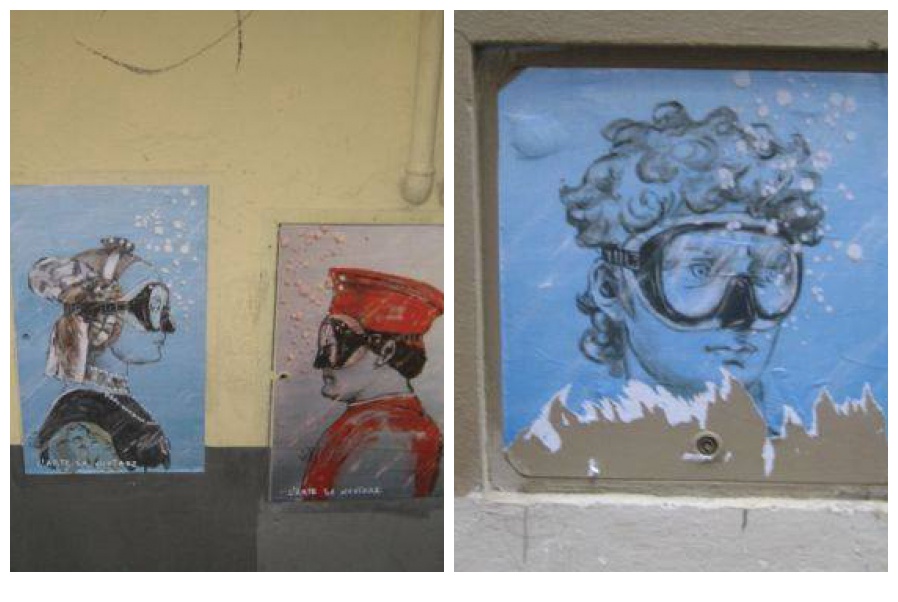 Thank you Alexander Bertland for proving me with these awesome shots. Apparently this is an art movement called  "L'Arte Sa Nuotare" called 'art that swims' featuring these famous men from Renaissance Italy (see Dante? – his large nose is partially obscured by his goggles). Super cool! 
Exhibit N. Pimp my ride!
Some people really take Valentine's Day seriously. Though to me, this looks slightly phallic, balloon-vespa is quite the sight to see and probably had a good heart. Thanks again Alexander! 
Exhibit O: He's got the blues
I am sure this is yet another artistic movement and as soon as I find out exactly what, I'll share! In the meantime you can enjoy this naked blue man on Via dell'Anguillara. Photo credit: Alexander
Exhibit P: The missing horseshoe
If you haven't noticed, Florence is full of garage doors, actually way TOO full if you ask me. Every once in a while someone opens these doors and we get to peek what's inside. A lone ranger wants his horseshoe back… Photo credit: Alexander 
Exhibit Q: Now that's not a Madonna!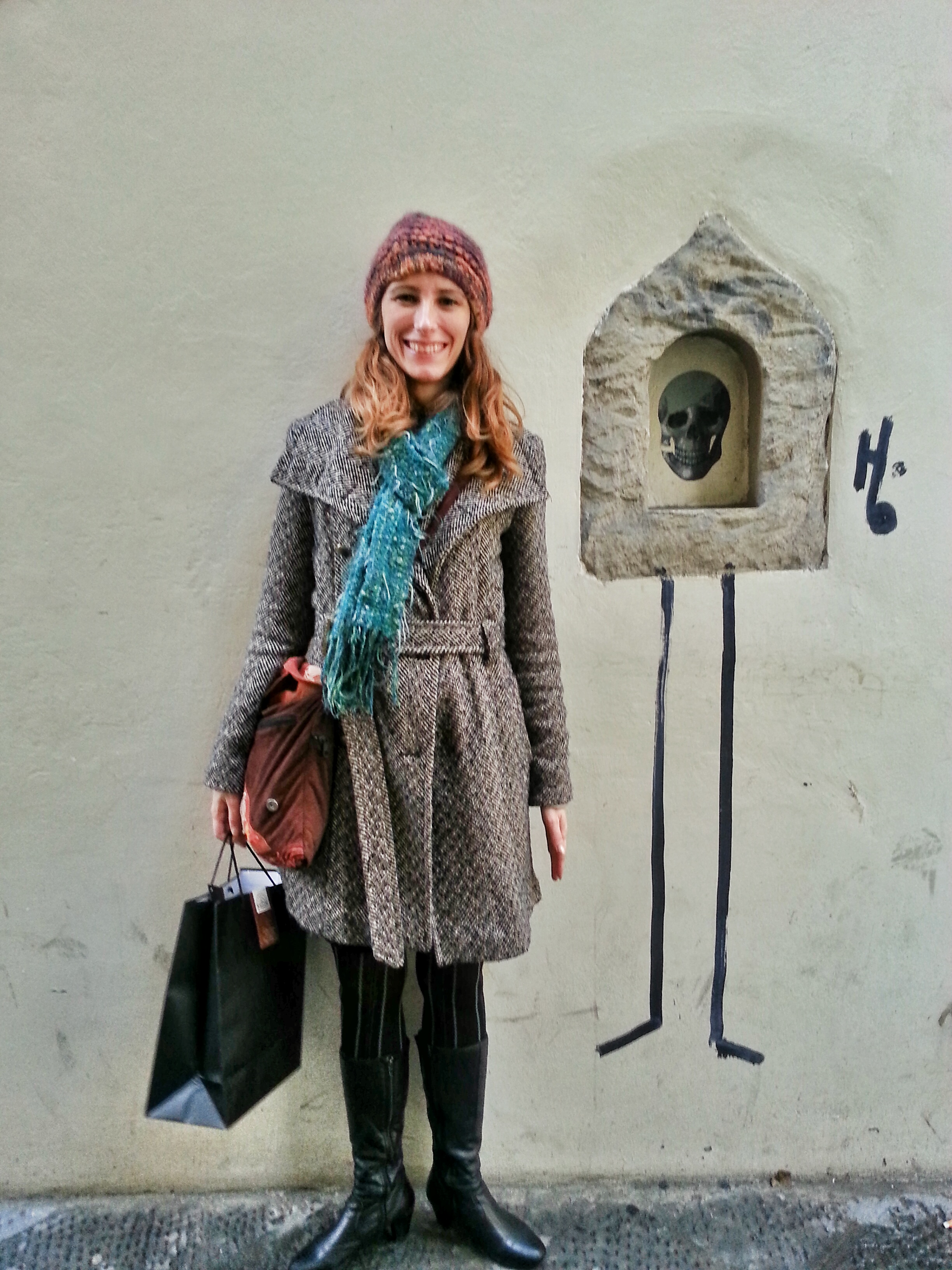 I returned to my favorite skull-in-the-wall in the oltrarno to find that someone had added a handy addition of legs. Naturally this made for quite the romantic photo opportunity with my friend Adeline!
Exhibit R: The tale of two bananas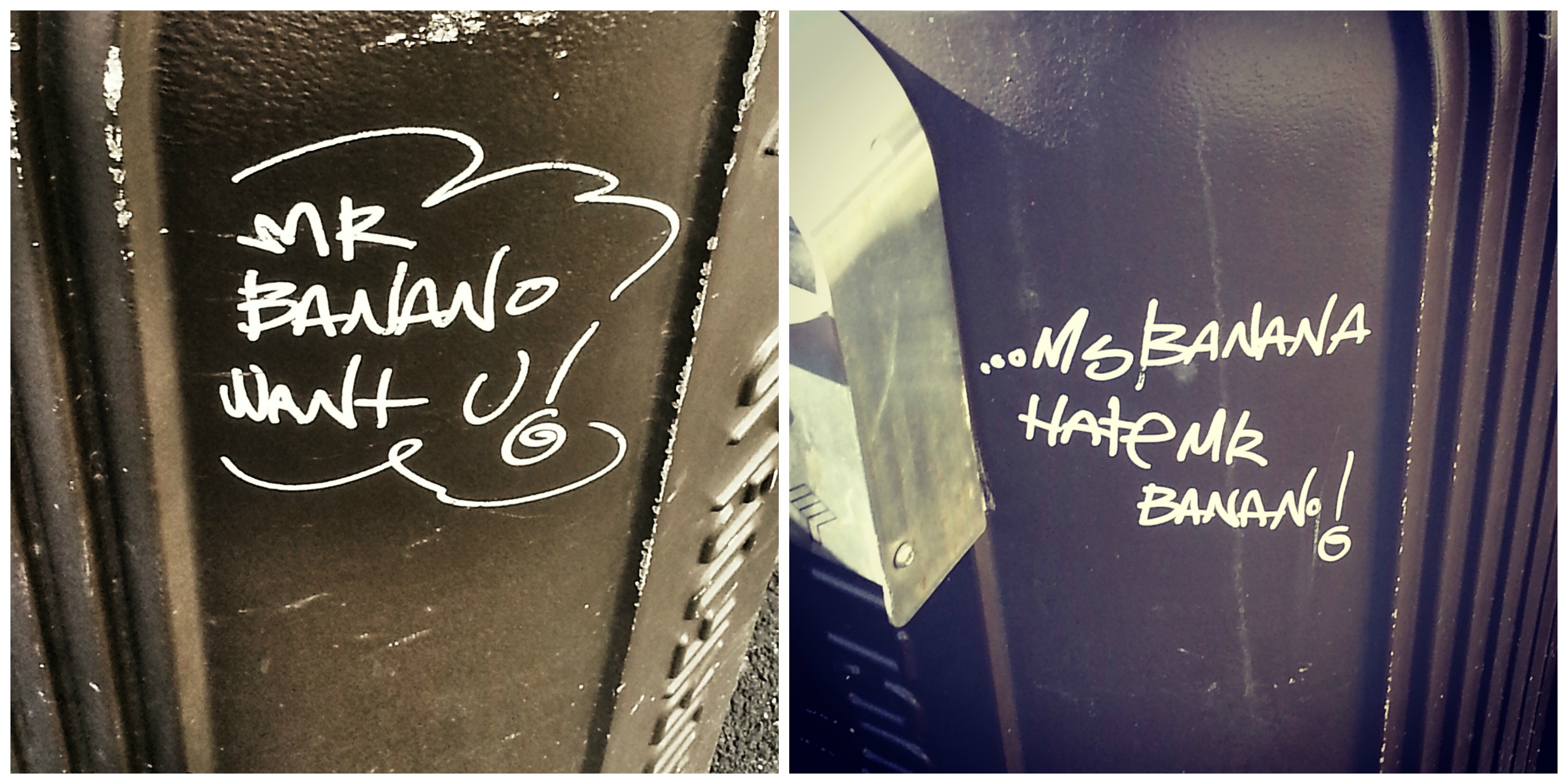 Something tells me that Mr. Banana just might be sleeping on the couch tonight. Trash cans don't lie..
Exhibit S : What happened to just looking human?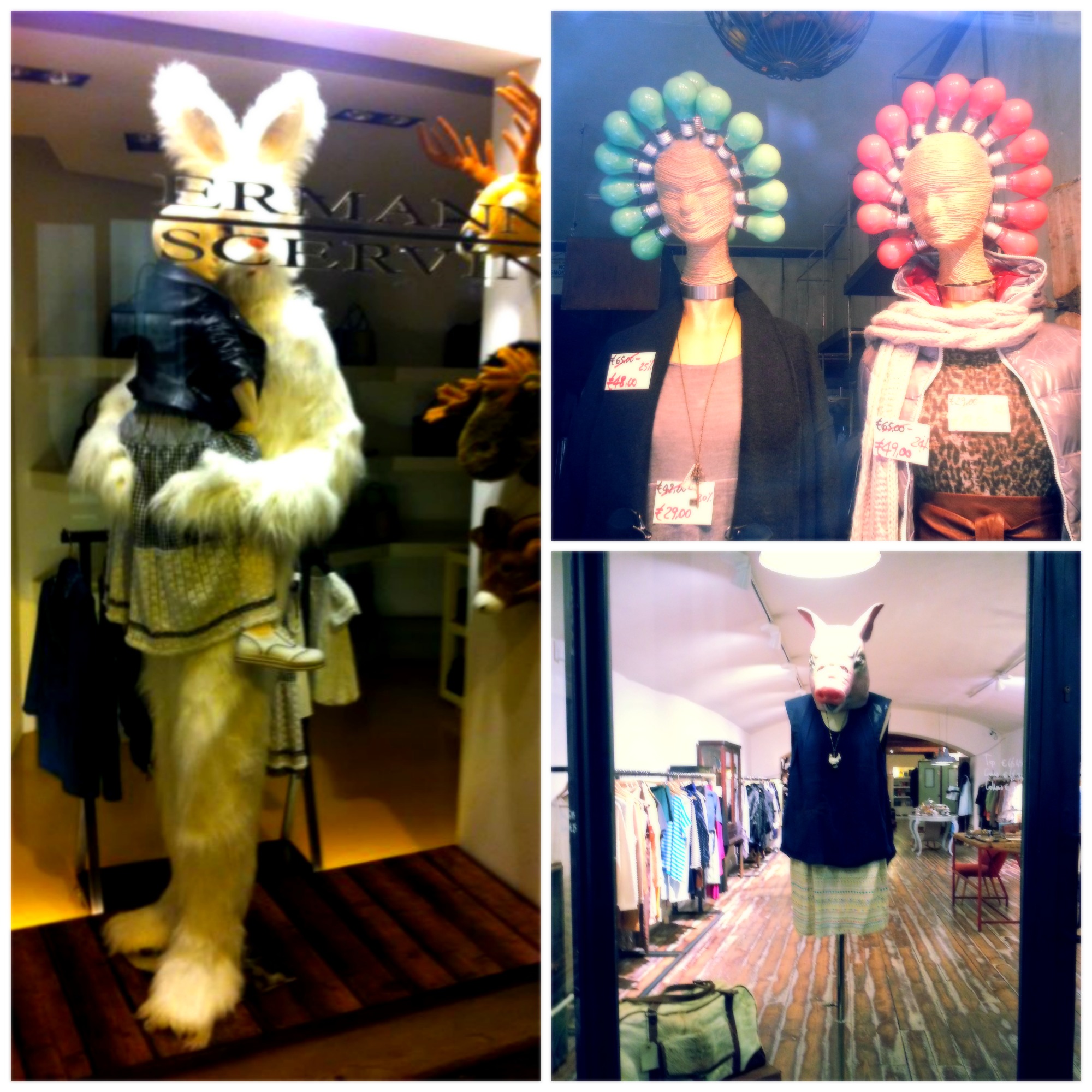 As if mannequins weren't already seriously creepy, someone thought it would be 'cool' to stick animal heads on top, or how about a bunny hugging [suffocating] a child. The freaky lightbulb-heads seems to be the most normal of of them all. Afraid of the dark? Well if you weren't before you would be if you shared space with these guys! Photo Credit: Tommaso. 
Exhibit T: Sequel to the movie Up.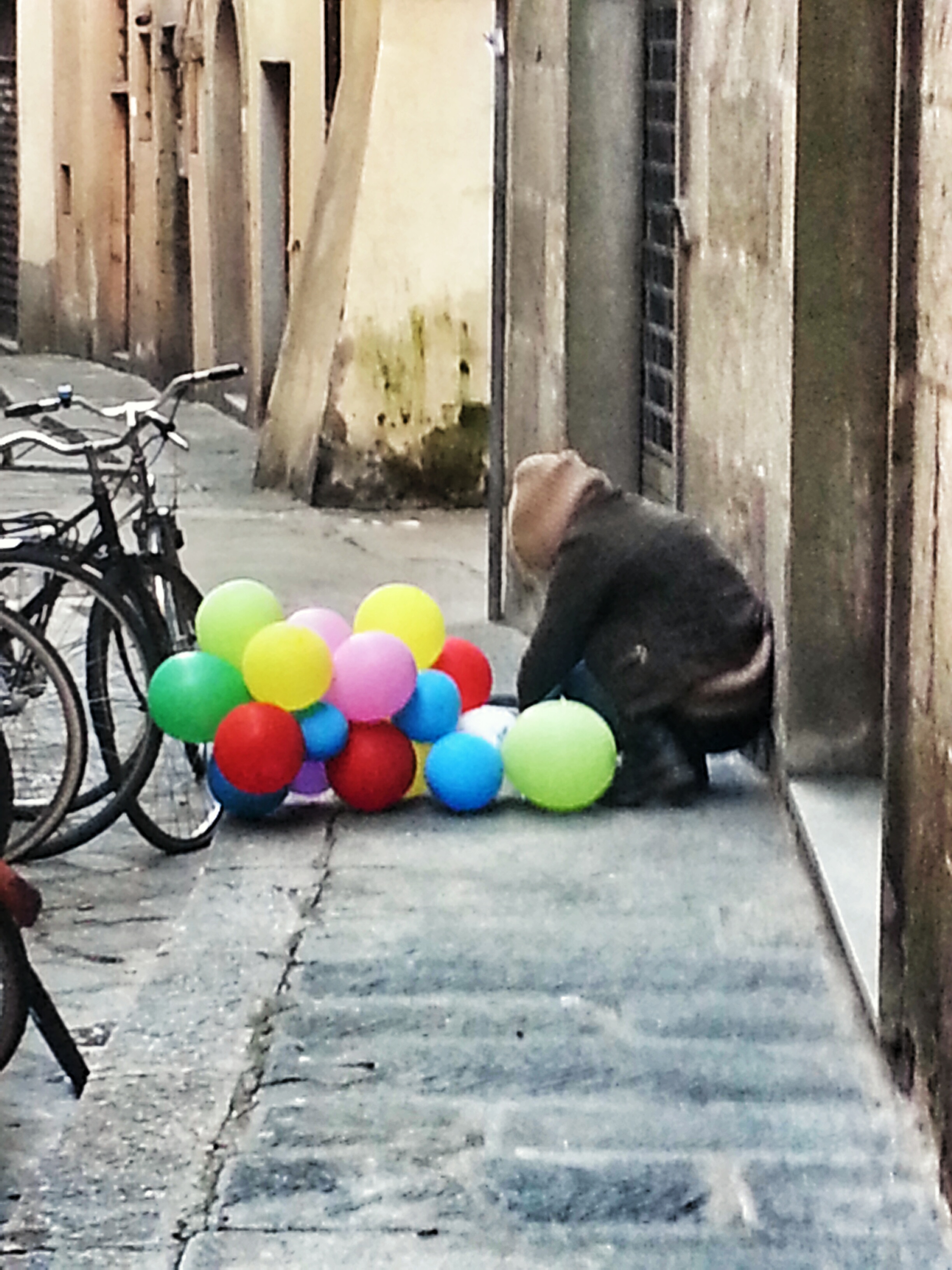 Well, I might have lied – this WOULD be a sequel to the movie up in the protagonist wasn't a drunk woman tying her balloons to the pavement near piazza della passera..
Videos! These three gems will help you feel right at home in Tuscany! 
[youtube=http://www.youtube.com/watch?v=S8vsR2isbac&w=560&h=315]
Living in front of the public bathroom means that I am provided with 24/7 live entertainment. This particular morning, they decided to serenade some tourists who were more in the need of a pee than a song. But hey, at least they tried!
Puppets Gone Wild
[youtube=http://www.youtube.com/watch?v=6KogJMDl0aM&w=560&h=315]
Puppets always manage to freak me out and this impromptu show in San Gimignano proves that yes, puppets belong in a box. Plus I don't condone violence.. (ps. I may or may not have used a curse word in this video – my apologies!) 
Why I am a Blogger 
[youtube=http://www.youtube.com/watch?v=bde4LqL7rtk&w=560&h=315]
People often ask me how I can possibly have enough free time to dedicate to this blog. Instead of giving them a lengthy answer on how much I love to share my life in Florence, I may just send them this video instead. This happened at a blogger event.