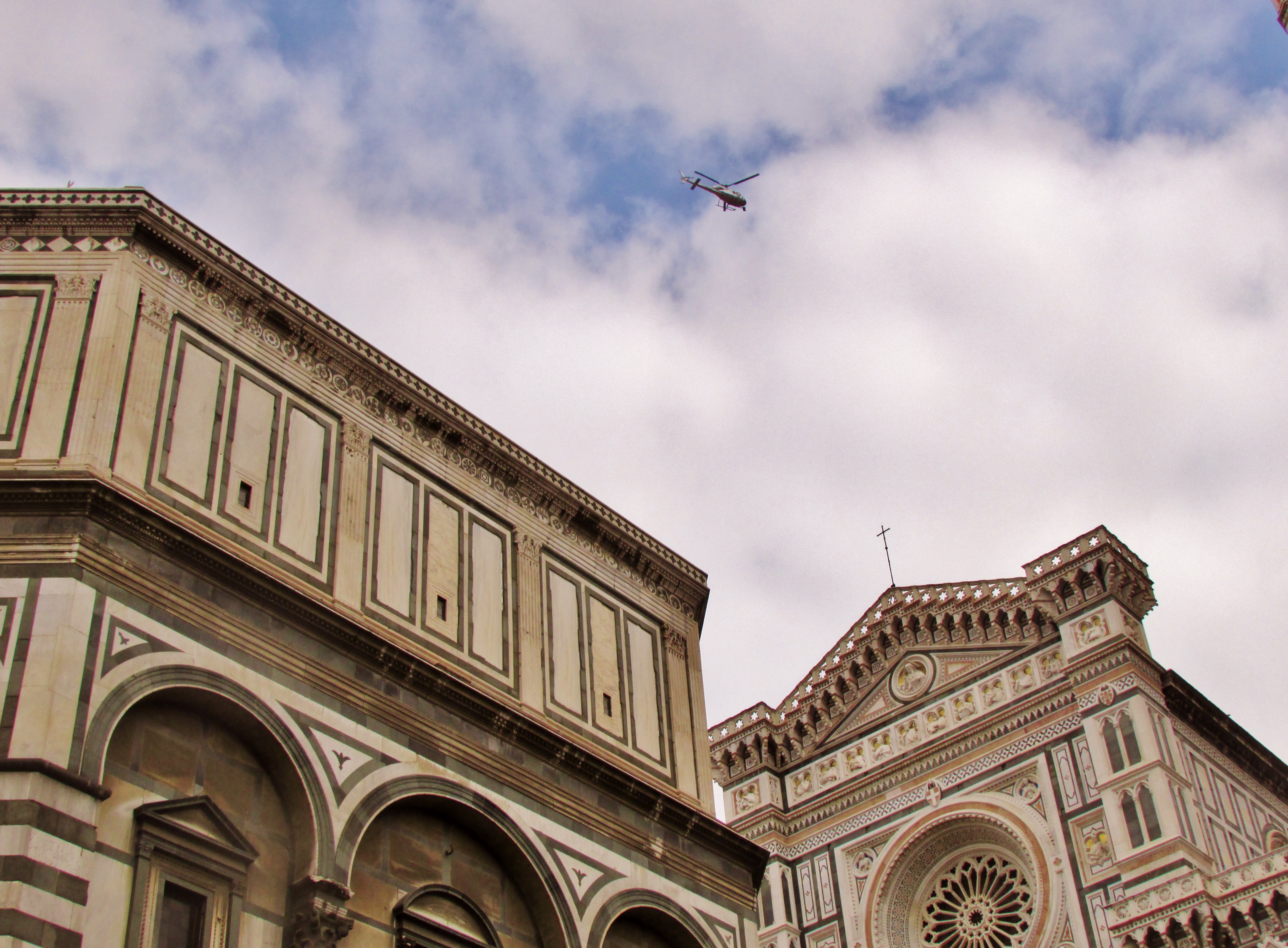 Somehow the time-witches as I like to call them, have taken the rug out from under me and made it become October already. September went by in a flash in my world and besides moving to a new apartment in the Oltrarno, I have also embarked on a number of very cool activities. This month will certainly prove to be no exception, and this weekend I am off to discover the La Marche region with #sibillinisegreti.
In Florence, this month will surely have a variety of cool activities worth getting excited about – while also providing us with our first taste of the autumn rainy season. It's 'change your wardrobe month' and if you are anything like me, you will be heading over to Tezenis to stock up on stretchy, colorful pants and too much variations of black. Without further ado – let's talk about October events in Florence, Italy!
Don't forget to check back periodically because I add events throughout the month as I hear about them. (and if you know of one, share it with me!)
Wine Tours/ Yelp Firenze wine tastings in October. Throughout the month, social group Yelp has arranged a variety of fun wine tours at various locations around town. It's a great opportunity to meet people, try wine and discover places you probably have never been. All for the price of an Apericena. More details here.
Meet & Greet/ Women's Working Group in Florence.  – Another meeting with this special group which will be followed by a networking cocktail — this Thursday, October 3 at 17.00 at the Consulate General of the United States of America in Florence. Make your reservations by contacting Sarah or Kate [email protected] / tel:  055/26695221)
Concerts/ Villa Favard, free concerts October 12th and 19th (opera and more). I have attended a few here and I have to say, it's absolutely lovely and once again — did we say FREE!
Workshop/ Florence writers presents a special Poetry Workshop: Still Life with Verbs – The Art of Description by Jeanine Hathaway. October 5th, 10am – 1pm. In this workshop, we'll write our own still lives modifying two forms, the Japanese haiku and the Korean sijo.Price: €35. Tea and coffee included. More details can be found here. Participants are asked to bring postcards of formal still lives or photos of "frozen" moments.
Music Festival/ Tempo reale Festival in Florence, October 4-17th at the Limonaia Villa Strozzi and public spaces. A festival of musical research and the experiences of the most innovative sounds and their relation to other arts. "Sound and Work" is the central theme of the sixth edition with a program that presents different facets and surprising places in the conventional and original city of Florence. This time with innovative formulas that combine the promotion of new music to the enhancement of historical and cultural areas. It does have an interesting list of events and I am loving the Limonaia this year as a venue for these type of events!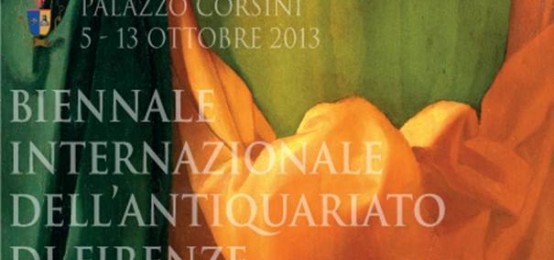 Art/  The Renaissance from Florence to Paris and back. This special exhibit is running from the 6th of september until the 31st of december. A great exhibition at Villa Bardini Museum in Florence in collaboration with the Musée Jacquemart-André in Paris. Explore Italian Renaissance works and masterpieces held in the French museum will be exhibited at Villa Bardini, on Costa San Giorgio 2 – Firenze. 8 euros from Tuesdays to Sundays 10.00 – 19.00. The exhibition is divided into six "thematic rooms": containing masterpieces of Donatello, Paolo Uccello, Zanobi Strozzi, Alessio Baldovinetti, Giovanni Baronzio, Francesco Salviati, Andrea del Verrocchio and Luca Signorelli.
Free Tour and  book Presentation/ Santa Croce in Pink! this Thursday, October 10 at 5.30pm, at the Santa Croce's Sala del Celacolo. The presentation will be in Italian (with some English) and the tour should have an English speaking guide. Free to attend, the book seems very interesting and right up my alley. Santa Croce in Pink pays tribute to a varied entourage of pious women, patronesses and princesses, from Galileo's daughter and Vittorio Alfieri's rebellious lover to more world-renowned forerunners like Charlotte Bonaparte and Florence Nightingale. The first guide of its kind, this book spotlights Santa Croce's many monuments commemorating the female protagonists of a magnificent journey that begins with thirteenth-century Florence's humblest spiritual traditions before celebrating the city's Grand Tour splendor and traveling the tortuous road to Italian Unification.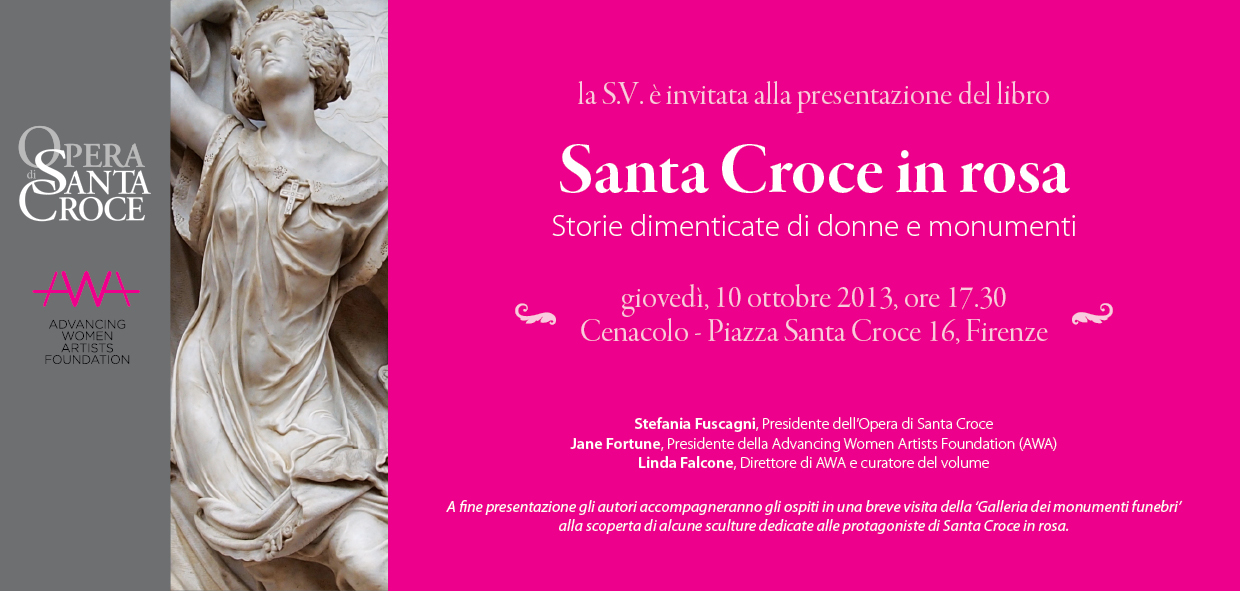 Technology/ Internet Festival in Pisa. October 10-13th. This now annual internet festival is quite a site to behold and gives you a great chance to get to know Pisa on a more intimate level. I was there last year as part of their blog team and you check out my experiences here. One of the main novelties for the 2013 edition is the introduction of a special section dedicated to businesses, designed not only to be a platform for networking, but to also become a real incubator of new business opportunities and a fertile ground for the creation of ideas.
Market/ EMOZIONI DAL CHIANTI 2013. October 10-13th. Gastronimic stalls and more in Piazza Santa Maria Novella.
Race/ Corri la Vita, October 13. (all around Florence). This race against breast cancer is an annual affair in Florence. The funds raised from RUN THE LIFE 2013 will be fully allocated to LILT Lega Italiana for the fight against cancer in Firenze. A minimum donation of 10 euros is required and you can sign up and pick up your t-shirt at a variety of locations. It's a fun event to participate in, many people just think of it as a fun passeggiata while supporting a very worthy cause!

Open day/Dream weddings & events showcase at  the Four Seasons Hotel Firenze. October 13th. A white horse-drawn carriage, brides in fairy-tale dresses twirling gracefully in the Gherardesca Park to the gentle tune of violins and piano; fireworks, floral decorations that resemble works of art. It is not a film scene, it is the Luxury Wedding Fair planned by Four Seasons Hotel Firenze. held on Sunday, October 13, 2013.Upon arrival at the Hotel, guests will be checked in and taken on a guided tour of the suites, rooms and exhibition spaces of major experts in the wedding planning field housed in the Palazzo della Gharardesca. The tour will proceed outdoors, in the park, where a wedding ceremony is staged with a string trio playing, falconers performing, wedding picnics and luxury vintage cars. I think you get the points here, this sounds amazing and I really want to go even to the see the biggest private park in Florence! To participate it is eur 15.00 per person, For reservations:  (+39) 055.26261.

Film Screening/Girl Rising at Syracuse University. October 14th (Monday). at 6:20pm. Around the world, millions of girls face barriers to education that boys do not. And yet, when you educate a girl you can break cycles of poverty in just one generation. Girl Rising is a groundbreaking film that has already been seen by millions. It's also a movement for girls' education that Syracuse University in Florence is proud to support. Girl Rising is supporting thousands of International Day of the Girl events around the world. Your attendance will send a message: Investing in girls is not just right, it's smart.
Market/ 'Artisans in the Piazza' October 19, 20th. – open market with locally made products made by Tuscan artisans in Piazza S. Annunziata 9am-7pm.
Film Festival/ 50 days of International Cinema is back at the Odeon in Florence. Begins October 25th. This year the festival celebrates the Woman: just when they multiply in an increasingly worrying and persistent cases of violence against women, the exhibition aims to contribute to make this stop. I am obsessed with this festival and I highly recommend attending a few of these films. You can find the full program here.
More events, festivals, concerts and more can be found here