Pisa oh Pisa, a city so close to the one that I live in – Florence yet one that I have never taken the time to explore or learn much about. Since I will have the pleasure to do so next week, I thought it would be fun to write about common misconceptions and touch on some fun facts about Pisa to again look at after I visit. The city itself is probably best know for its leaning tower or La Torre di Pisa as the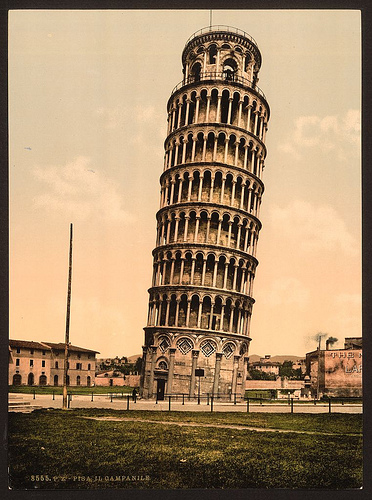 Italians call it, and as the birthplace of one of the most famous men in the math,physics, astronomy world  Galileo Galilei. Which makes sense as to why Pisa has such a fantastic math & science university. On a lighter note many people travel here from Florence to the Pisa airport which is bigger than the one in Florence and hosts many of the low-cost carriers, Easyjet, Ryanair, AirBerlin, etc. It is very easy to get to Pisa since they have the terravision bus and trains that leave every half hour to the airport.
Back to the tower, construction began in 1174 by Bonanno Pisano but wasn't actually completed until 1350 due to wars with Lucca, Genoa and my city – Florence. It ended up being a saving grace since the delayed construction let the earth settle. The tilt that it's so famous for actually was noticed during construction and likely due to a poor foundation and shifty soil (literally). It towers almost eight stories so you can imagine the kind of feat this was during that time in history. One of the many mysterious surrounding the tower includes the dubious identity of the original architect – could this have been due to embarrassment over the tilt? After all it was meant to be a vertical tower. For many years, the design was attributed to Guglielmo and Bonanno Pisano, but in recent studies it has thought that perhaps architect Diotisalvi may have been the man.
One myth that I find particularly interesting is the one surrounding Galileo, Pisa's most famous celebrity. His secretary claimed that he dropped two cannonballs from the top of the tower to test mass vs. speed though there is no real evidence to support this. I like to think he did, don't you?
Regarding the dangerous tilt – According to wikipedia
On February 27, 1964, the government of Italy requested aid in preventing the tower from toppling. It was, however, considered important to retain the current tilt, due to the role that this element played in promoting the tourism industry of Pisa

wikicommons
This does not surprise me in the least, after all how could Pisa visitors take classy cheesy photos 'holding up' the tower? Italians aren't stupid – they see the value in a photo-op, job well done. The 'field of miracles' or 'piazza dei miracoli' where the tower seems almost unreal to me – so beautiful and a UNESCO heritage site.
Another fun fact about the tower – it actually used to lean the other way! Frightening, I am starting to think this tower has a problem with 'grappa' (a very high alcohol spirit). After being closed for quite a long time, you can now climb the tower. I consider myself a brave person but just knowing all of these 'fun facts' makes me not really want to explore its hollow interior as much as the next person. I can't help but think of the word..timber!
Online I saw a few ridiculous claims about the tower included that it is 'meant' to fall in 2016 and that during the 1900's they seriously considered taking it down, false!
Enough tower talk – what about the city itself? What is there to see, eat & do. The biggest misconception I noticed about the city itself were the comments I read online that 'there is nothing to do but see the tower'. Nope, there are things to see and do but you are just not taking the time to learn about them. So here is what I found from just a 20 minutes of research online.
Visit the Pisa Charterhouse – Calci Charterhouse (Certosa di Pisa, Certosa di Calci).  A  former Carthusian monastery and now houses the Museo di Storia Naturale (Natural History Museum). This amazing place is actually located 10 km from Pisa in the comune of Calci. It is absolutely seems worth a visit and houses the largest collection of cetaceans skeletons in Europe, pretty amazing,
Visit the Natural Park of Migliarino-San Rossore-Massaciuccoli this park covers 24,000 hectares of beautiful land and is mix of pristine beaches, marshes, pine forests, rare plants, debris from the Arno river. For more details, check here.
Walk around the city and visit the University of Pisa. Walk towards the center and away from the most famous piazza along the riverside and perhaps stop at the University of Pisa hosts 60,000 students in a city of about 100,000 inhabitants and is well-known for their math & science department as noted above. The botanical gardens in the university are quite famous and not far from the tower, located on Via Luca Ghini, 5. 
Don't forget that nearby are many thermal spa's where you can soak in healing waters and get treated like royalty. Here is a nice list from Tuscanypass.
Those are just three options, and this is literally all from what I read/saw on the web, I am sure there are many many more. I will be posting from the Internet Festival next week and afterwards write a much more detailed (with fun photos) post about my thoughts on Pisa and advice I can give travelers.
Until then, please let me know your thoughts on what to do and what to see & eat in this city. 🙂
Related articles