I have been craving a moist ( I hate saying that word ) carrot cake for some time but I always seem to either burn anything I put in the oven or overdo some ingredient ( like baking soda ) to make it completely disgusting. Recently for the girls get together I ended up bringing this while also saving some for t-mans parents and everyone loved it! It can be difficult finding all of the ingredients you need when you look up recipes in English, so I tweaked a bit from a few different ones. My base recipe comes from Canadian Living and it's actually a pumpkin carrot cake but I didn't add the puree to mine…Ingredients
3/4 cup (175 mL) sugar
3/4 cup (175 mL) packed brown sugar (zucchero di canna in Italy, I actually can find the more packed kind at the Coop or Esselunga supermarkets
3 eggs
1/2 cup (125 mL) vegetable oil
1 tsp (5 mL) vanilla (essenza di vaniglia , look in the baking aisle you'll see it in little vials and green packaging )
2 cups (500 mL) all-purpose flour
2 tsp (10 mL) baking powder ( lievito )
2 tsp (10 mL) cinnamon (cannella)
1 tsp (5 mL) baking soda ( bicarbonato di sodio )
3/4 tsp (4 mL) salt
1/2 tsp (2 mL) nutmeg ( noce moscata )
2 cups (500 mL) grated carrots

not just for bambini ; )

 

1 baggie of pureed carrot and pumpkin ( pictured on the left, you can find this in the store where baby food is sold, seriously it makes the cake moist! ) its called Vellutata Carote e Zucca

1 small bag of chopped walnuts ( I used one of the snack bags with chopped walnuts and cherries..it worked and was cheaper )

1 Orange for zest

ICING, 2 packages of Light cream cheese, 3/4 cup (175 mL) butter, softened, 3-3/4 cups (925 mL) icing sugar (

Zucchero a velo

 ), 1/2 cup (125 mL) whipping cream ( 

Panna da Montare

 )
Preparation
In a large bowl, beat together sugar, brown sugar, eggs, oil, and vanilla until smooth. In a separate bowl, whisk together flour, baking powder, cinnamon, baking soda, salt, and nutmeg; pour over the egg mixture and stir just until moistened. Stir in carrots, zest, pumpkin & carrot mixture, and nuts. Spread in greased 13- x 9-inch (3.5 L) metal cake pan.
Bake in centre of ( 180°C) oven for about 30 minutes ( the official recipe said 40 minutes but my oven heats up really quick due to it being about 1000 years old and grumpy). Let it cool for a while before applying the icing.
Icing: In a bowl, beat butter until light and fluffy; beat in your powdered sugar alternately with cream, making 3 additions of sugar and 2 of cream. Cool the icing in the fridge for a few hours before putting on your cake.
I am pretty sure if you are related to Betty Crocker or at the very least, not me, your cake should look like this…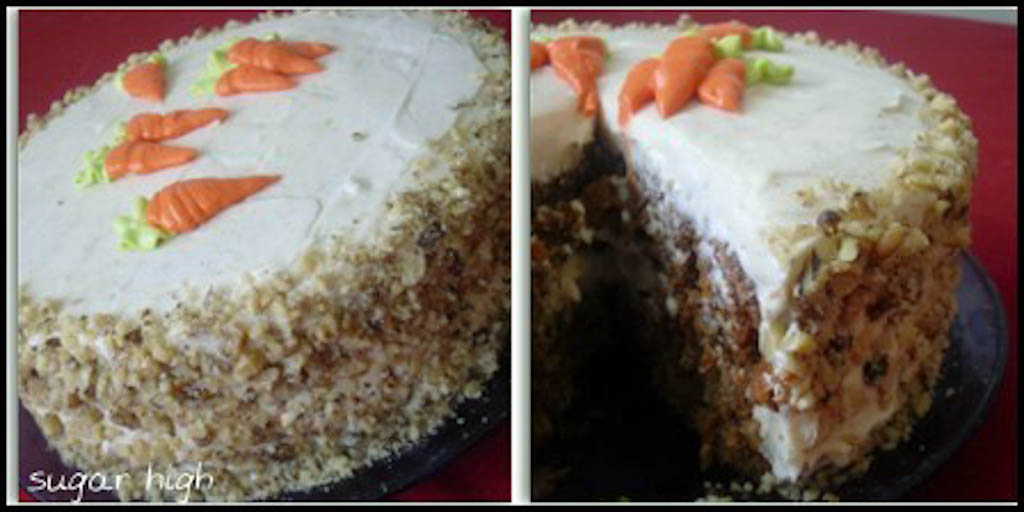 My best effort looked like this :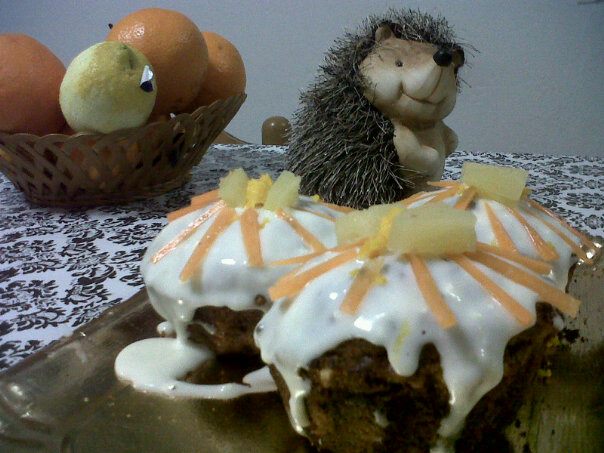 They were awesome though… and I loved the icing. It was a little runny but hey I did make it myself.. We "attempted" to decorate the muffins by cutting thin strips of carrot to make wheels and put some sliced pineapple on top.. ENJOY!