Ahhh, glorious September. Normally this month in Florence Italy, there is a real buzz of excitement, as it coincides with the classic "rientro" or return period after the traditional summer holidays.
You'll find locals bronzed and happy, (well, those lucky enough to have escaped this summer's heatwave) heading back to work and present at cocktail bars and pizzerie to share stories from their vacanze as everyone's schedules ramp up with work/kids going back to school.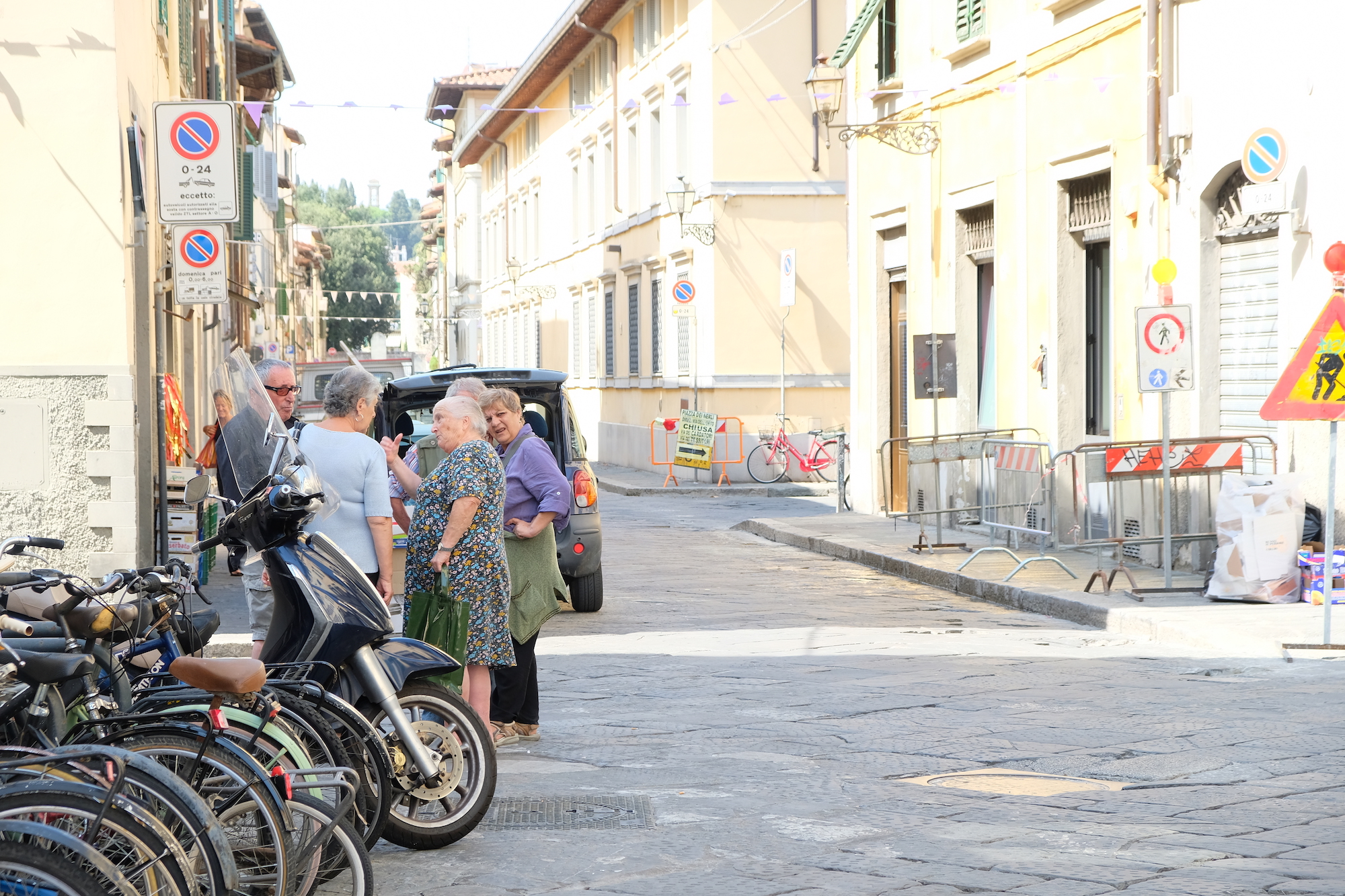 It's funny, when I wrote this post last year, I assumed that by September 2021 things would be much different. Things would be back to normal, albeit cautiously.
Spoiler alert, it's not.
I think it is safe to say that we had no idea that we would still be this impacted, nor that there would be dangerous variants circulating worldwide that make it hard to live stress-free right now. It feels like this nightmare of a virus will never end but that being said I'm choosing to live a bit more in the moment and trying my best to avoid projecting the future anymore. Nico and I both got our vaccines this summer (thank god) but we are still essentially living as before, masked up in crowds and on public transport/inside establishments because of this asshole Delta variant and the fact our daughter obviously can't get a vaccine (she's four months).
Just a little Italy admin– the Green Pass has now been activated in Italy and it's likely to get even more restrictive. For example, passengers are only be allowed to use certain public transport in Italy if they show a Green Pass, which proves recent vaccination, a negative COVID test in the past 48 hours or recovery from the disease in the last six months.
It's worth making sure you stay updated with the latest rules in Tuscany and beyond. Follow sites like The Florentine, La Repubblica, The Local Italy, and the Tuscan Region.
In more positive news, one thing I have always appreciated about September is the arrival of grape harvest season and the sticky-yet-delicious la schiacciata con l'uva (here's a recipe by cookbook author and friend Emiko Davies). Think of a delicious flat bread overly stuffed with juicy grapes that make any rientro or return to life much easier to deal with.
Personally, autumn is my favorite season, and can we say an amen to cooler weather and reasons galore to whip up delicious hearty soups and seek out a seriously cozy blanket (that our dog Ginger will steal) to curl up in together with a good book.
We spent a glorious month (give or take) this past July in Florence and plan to be back to our little house with Annabelle in October for a week. I am beyond excited and hoping for cooler weather, October is always a favorite time for us to enjoy Toscana.
For those of you who might be reading this and going "huh – new home?" and have missed any pertinent life updates in our dual-homes of Switzerland and Florence – here's just the post to read.
Link Love for the month of September
Though coronavirus restrictions will indeed mean less events will be ongoing, there are still a fair amount of reasons to get excited about this September and I implore you to be respectful, wear a mask, be careful in crowds and still, enjoy the beginning of autumn in the city!
This September 4th and 5th marks 'La Fierucola del Pane,' the city's oldest fierucola (a local market selling biological products and promoting the use of organic and biodynamic farming on a small scale) is now in its 37th edition but this year it will be hosted in Piazza Santa Croce instead of Santissima Annunziata. The open-air market will be a daylong event (9am to sundown). Here you can find not only bread; but organic honey, seasonal foods, and artisan-made crafts.
I'm happy to hear that one of my favorite local food festival "sagra del tartufo" is back from September 4th to September 26th and I am gearing up my stomach for what will hopefully be return trip to the neighborhood of Girone (in the suburbs of Florence) to try everything truffle. In its 37th year of existence, volunteers from the Italian blue cross organization come together to serve truffle pizza, truffle bruschette, pasta with truffle, truffle sausage – um I know I sound a bit like Bubba Gump but you get my drift. It's cheap, fun and easy to get to via the bus line 14 (towards Girone) which you can catch at the station, it takes about 25 minutes to get there and it is the last stop. More info is here (in Italian). You will sit at communal tables, the light is way too fluorescent, and it is very local. They have taken precautions to ensure that everything is safe as per covid19 restrictions. For info or to make a reservation call or email: tel. 3314480285 email: [email protected]: head to Piazza Sandro Pertini, Fiesole then take a left to find the food festival structure.
An open-air Creative Factory heads to the Giardino di Arte'Cultura (horticulture garden, Via Vittorio Emanule II n.4) on September 5th. You'll be able to join a number of events (also with kids) including a picnic, photography workshop, an urban dance show. More info can be found here. This is a project by the Heyart Association who have put together this market aimed at promoting creativity and youth enterprise.
This Saturday the 4th head down to community cafe Il Conventino near Piazza Tasso for a night of Jazz (I also love their pizzas too, this place is a real godsend). They run regular events throughout the week so keep an eye out on their Instagram.
For those looking for a place to do pilates, get a massage, yoga, mindfulness and more: Relax Firenze is THE place to go in the center located near Piazza della Repubblica, from September 13th they will be running courses in mini-groups of Pilates, postural pilates and yoga.
On September 7th, the Italian Chef Charity Night returns at the Forte Belvedere terrace with several top chefs in action cooking a variety of dishes for charity: namely towards the Ca' Moro restaurant in Livorno that's worked in by young people with disabilities, and the Montedomini project by the non-profit organization 'Il cuore di Firenze', dedicated to the construction of homes for the elderly in need. Here's where to get your ticket.
September 7th is The Festa della Rificolona, or the annual Festival of the Paper Lanterns in honor of a popular Christian holiday celebrating the birth of the Virgin Mary (which is on September 8th). In Florence, this festival also marked a time when farmers living outside of the center would parade into Santissima Annunziata carrying paper lanterns on the evening of September 7th to then sell their goods in a market in the same square on September 8th. On the 7th around 8pm in Piazza Santissima Annunziata expect to see a large number of local Italian families carrying fun paper lanterns that local kids try to set on fire by launching spit wads (I kid you not). Honestly, it's pretty cool to see in person, especially if this is your first time in Florence. It is back this year (yay!) but they are also hosting a number of events in various neighborhoods around Florence for kids as well – check out this article (in Italian) for more details.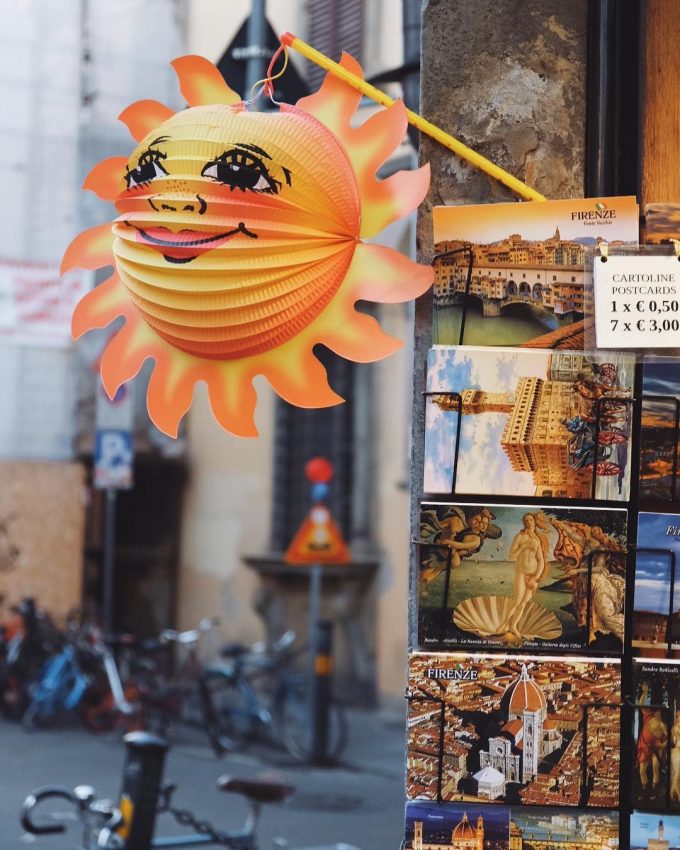 The British Institute of Florence always hosts a plethora of interesting cultural events that are super interesting. This September you can join one of their Wednesday lectures, now delivered via Zoom, with people from all over the world tuning in for entertaining and informative talks about Florence's history, art and life. Here's the upcoming program – expect topics such as "Currency of Diplomacy: Friendship, Propaganda and the Power of Renaissance Portrait Medals" and "Guardians and Messengers: Archangels in Florence".
Love Jazz? Well you are in for a treat! From September 8 to 12 there will be 5 days of music at the Firenze Jazz Festival with over 100 artists engaged in 10 different locations and more than 35 live events in Florence. The program can be seen here.
Another Fierucola organic grocery market is now going to be every second Sunday from 8-3 pm in Piazza Carmine. The first edition will take place on September 12th. I'm curious to see how this one will be!
Forte di Belvedere is still in action and this former 16th century Medici fort reopened earlier this summer to the public as a contemporary art space combined with a cool place for a drink with a stunning view of the city. Ongoing is an exciting exhibition Pienovuoto curated by Sergio Risaliti, artistic director of the Museo Novecento, showcasing the work of the great photographer Massimo Vitali, known throughout the world for his 'metaphysical' shots. The photos on display are a portrait of our contemporary society amidst solitudes, multitudes, full spaces, gatherings, and empty landscapes, where nature or cities seem to have isolated a few survivors in the midst of grandiose, sublime architecture and landscapes, which still dominate undisputed life.
Artigianato e Palazzo is back this September to showcase local artisan craftsmanship from the 17th to the 20th in Palazzo Corsini's lovely gardens. It's worth it to visit to see this incredible (and normally private) space in itself. address: via della Scala 15.
Head to Piazza Santo Spirito, Sunday – September 19th for an all-day organic fair: Fierucolina di S.Michele. The square will be filled with organic producers from around Tuscany and Italy and is a great place to pick up parmesan, kambucha, breads, essential oils and a lot more.
The Florence Cocktail Week is back from September 20th to the 26th where some of the nicest bars in town (45+ in total) will pay homage to a bevy of lovely events: think aperitivo hour on overdrive, masterclasses and more! Here's the list of participating locations in Florence.
The Female Arts of Florence space in San Frediano is offering a number of holistic events this September that really look exciting, everything from yoga to dance, to meditation — you can find the full lineup here.
One of my favorite places in Florence (and very beloved by locals) is Manifattura Tabacchi, a former tobacco factory in the San Jacopino neighborhood that has turned into an urban space hosting art exhibitions, a great restaurant (Bulli & Balene) and cafe and offers space for concerts, outdoor movies and more. A few highlights from this month you might want to check out.
Until Sept. 19th. you can visit the Botanica Temporanea, an interactive exhibition inspired by the principle of gentle, low-impact environmental regeneration, aimed at encouraging the growth of spontaneous flora and fauna to recreate a mutually beneficial, long-term balance between Humans and Nature through the installation of greenery with 1555 plants and over 50 botanical species, provided by Giorgio Tesi Group, and through design documents, materials and testimonials. Exhibition Opening Hours: monday-friday, from 10:00 to 17:00, by appointment, write to: [email protected].
Saturday, from 10:30 to 19:30 (no appointment is required).
Sept. 15-21st – God Is Green festival, these talks will be dedicated to sustainability and the future, conceived by Manifattura Tabacchi and produced by Nam – Not a Museum.
Sept. 16-18th, SUPERBLAST exhibition opens to the public showcasing the work of six artists that won the international call – Edoardo Aruta, Antonio Obregon Bermúdez, Federica Di Pietrantonio, Iper-collettivo, Oliviero Fiorenzi, Violette Maillard. Superblast revisits the relationships between man and environment, individual and community, nature and culture.
Join a community bike tour (bring your own bike) to learn more about some of Florence's less famous neighborhoods. In September you can discover the quartiere of Novoli on September 9th (6:30pm-8:30pm).
The St. Mark's English Church on Via Maggio is always a great place for events (they have hosted many a book club/writer's classes and yoga). Here's what have on offer this September (green pass required).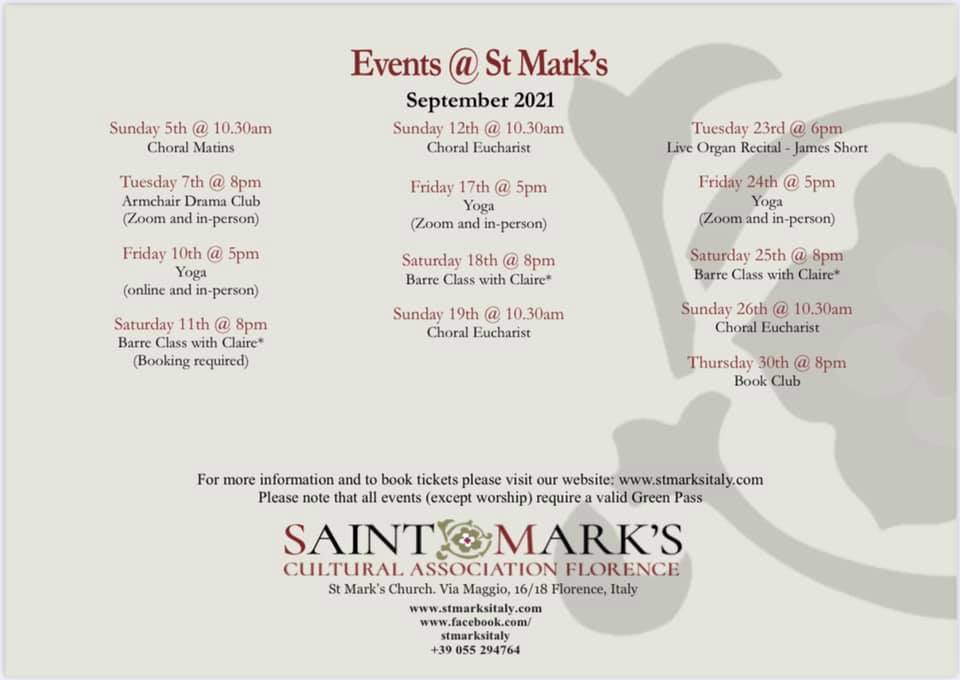 A night at the cinema, I have really missed watching movies on the big screen and The Odeon is a mighty fine place to see any film. The movie Dune will be coming out on September 16th, described by The Guardian as "Denis Villeneuve's slow-burn space opera fuses the arthouse and the multiplex to create an epic of otherworldly brilliance". Keep an eye out for the program for their original language lineup here.
For those who appreciate short films, there is the 8th edition of a short film festival (FirenzeFilmCorti) September 22nd to the 25th hosted at several spaces around town, including the Murate complex in Florence, Accademia Belle Arti in Firenze, Limonaia Villa Strozzi.
The last Saturday of every September (the 25th) is the Carro Matto or "crazy cart" with flasks of wine from Rufina that is pulled by a pair of white oxen through the city. Naturally, it marks wine harvest season and you can expect to see the parade fanfare around 3:30 pm the last Saturday of the month.
Corri la Vita is an annual Marathon for Charity that is beloved locally. This year the event will be all over Tuscany and it's open to any sort of athletic interpretation. Also, access to many cultural destinations around Tuscany will be free for those wearing the iconic Corri la Vita t-shirt. Funds raised go towards fighting against breast cancer and assisting cancer patients.
While not exactly a specific event, during September provided the weather is good you can still enjoy the city's many rooftop terraces. Most of which are located on top of hotels where anyone can go for an aperitif drink and even sometimes stay for dinner. The bonus is you get a beautiful, panoramic view of the city — just be aware that drinks will often be a little pricier.
"La Terrazza" on top of Hotel Continental is open to the public and is a sexy, sophisticated spot to sip a moscow mule with a birds-eye view of the Ponte Vecchio. While pricey, it is open daily from 3:30pm-10pm to a limited number of people (reservations required). address: Vicolo dell'Oro, 6r – 50123 Florence, Phone. +39 055 2726 5806 , E-mail. [email protected].
Loggia Roof Bar in Santo Spirito gives you a very unique view of one of the city's most popular gathering places for locals. I personally adore this terrace and wish I could camp up there as a permanent resident. address:

:

Piazza Santo Spirito, 9, 50125 Firenze FI, Italy. Reservations recommended.

B-Roof is an awesome rooftop bar on Hotel Baglioni. It is the ideal place for a sundowner aperitivo with a large, expansive terrace at your beck and call with a bird's eye view of the Duomo cathedral (and not only). Dig into curated snacks and fun cocktails, keep in mind that it's best to make a reservation. Added bonus, you are very close to the train station should you need to jet off quickly. +39 055 23588865 www.hotelbaglioni.it.
Hotel Plaza Hotel Lucchesi's stunning rooftop terrace by the National Library is one of my favorite places to go for a rooftop drinks. Reservations required +39 0552623500 e[email protected]. address: Lungarno della Zecca Vecchia, 38.
Head to the truffle restaurant Osteria dei Tre Panchi on Hotel Hermitage which is a delicious experience overlooking the rooftops of Florence. More info here. It is… amazing.
View on Art is located on top of Hotel Medici in the center of town, here you'll find a beautiful view of the Duomo cathedral and more affordable aperitivi than similar terraces. address: Via dei Medici, 6. Closes at 9:30pm.
Hotel Kraft is one of the lesser-known spots for dinner or a drink in Florence and I actually quite like it. You'll find it on Via Solferino, 2 near the American Embassy.
Grande Hotel Minerva, '360 Three Sixty' Rooftop Bar. Always an iconic destination in Santa Maria Novella. Open daily from 7pm-midnight. Email [email protected] for a reservation.