From the moment I stepped up to the wrought iron gates of Fratelli Traversari Mosaici on Via Senese, I had a feeling what lied behind the serene doorway was something special. The non-descript location didn't give anything away, but knowing Florence often the most special places are ones on streets you'd never suspect.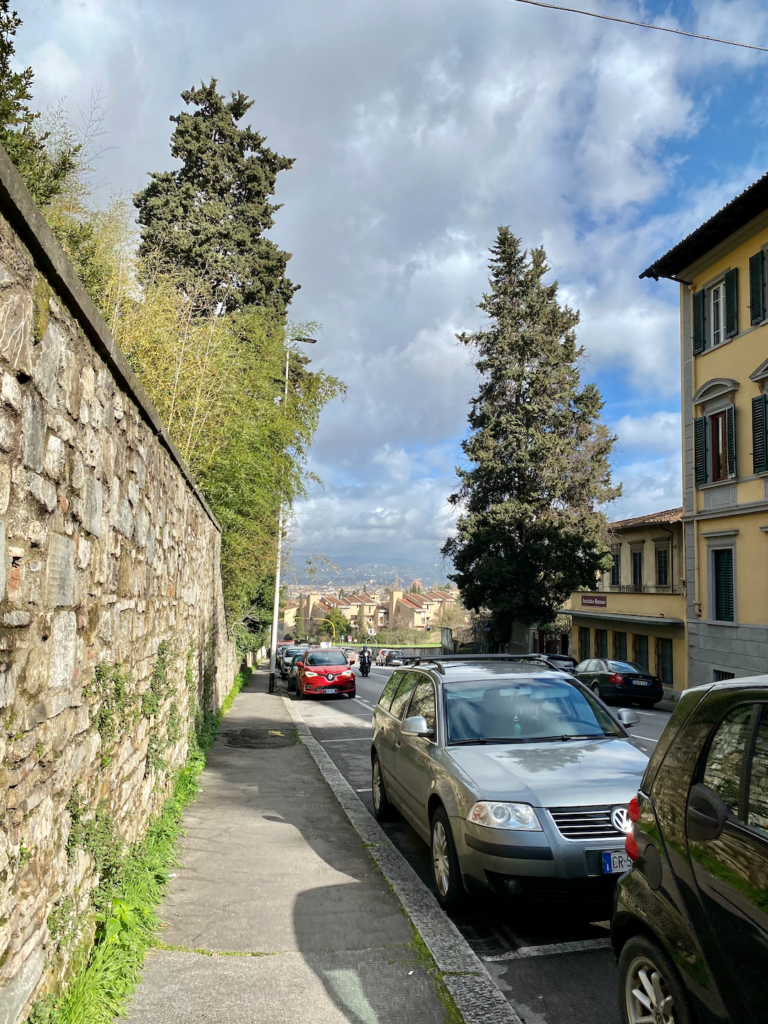 Walking inside, I was greeted by Daniele and his sister Letizia, the fourth generation of a treasured family business that has existed in Florence since the late 19th century. One, that like everyone else right now, has been quite affected by the pandemic and loss of visitors and business.
Walking inside I wasn't sure exactly where to look first, the labyrinth of large-scale artworks and smaller pieces are as eye-catching as they come and it was such an exciting feeling. Before me was art" made of a thousand pieces", Fratelli Traversari Mosaici specializes in artistic mosaic production present on artworks, tabletops, portraits and jewelery. It had been so long since I had been in an artisan workshop like this, a place with a thousand stories in each brush stroke, or more aptly in this case, each tiny piece of mosaic.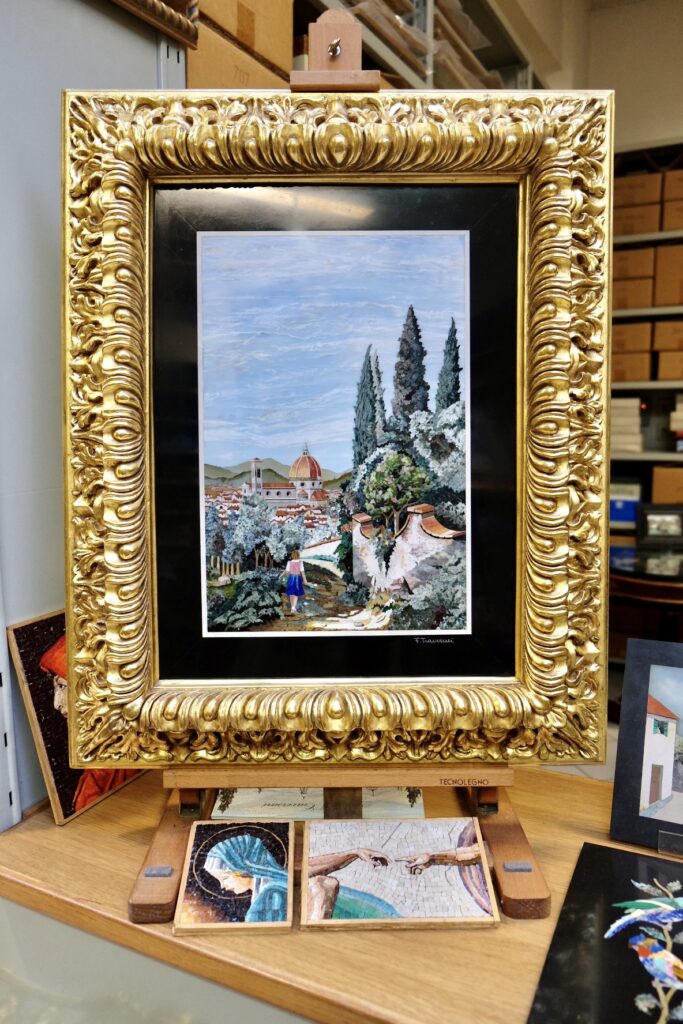 Looking from afar you can barely tell that each piece consists of hundreds, sometimes thousands of tiny fragments, breath-taking Tuscan landscapes and copies of famous artworks surrounded us. These types of high-end souvenirs were famous for centuries, especially during the late 18th century through the Victorian period as travelers came to Italy along the Grand Tour.
We took some time to walk through each area, more showroom than workshop (they have another large space in the suburbs to work on pieces), with beautifully-framed artworks piled in every direction. One wall was lined with small shelves with strips of colourful spun glass for the micro-mosaics, the glass from Murano (Venice). Desks were covered in illustrations of worked-on pieces and there was even an ancient clamp that is still used to cut the tough Florentine stone scavenged from nearby hills. This kind of work isn't for everyone, in fact it is a skill beheld by a few people that quite frankly have a gift, hence why businesses like this are becoming rarer by the decade.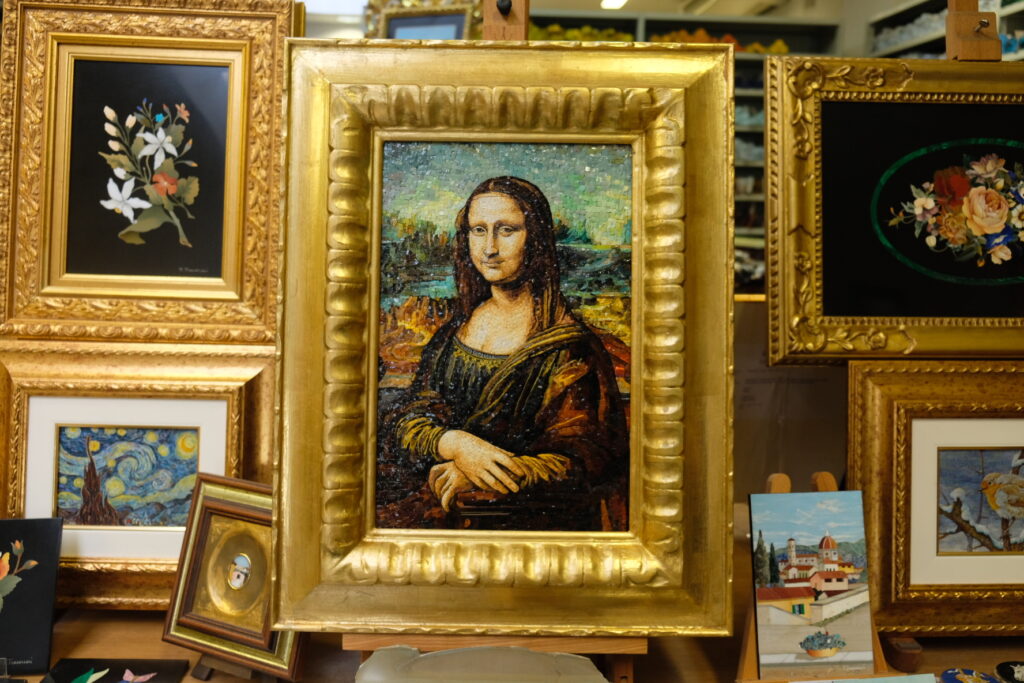 One Family's Story of a Continued Artisan Tradition
Daniele and the family specialize in three different types of mosaic, the Florentine style, the traditional style (cut glass) and the third, micro-mosaic is a painstaking process that starts from sketch to piece by using tiny fragments of glass. This technique, born in Rome at the end of the eighteenth century the so-called "teghe" (thin rods of spun enamel glass of various shapes and colors) instead of the traditional square tesserae. These are obtained via Murano glass plates that, thanks to the skill of the spinner, are melted together in a special oven to obtain different colors and shaped in various forms: plates, rose petals, daisies, leaves etc.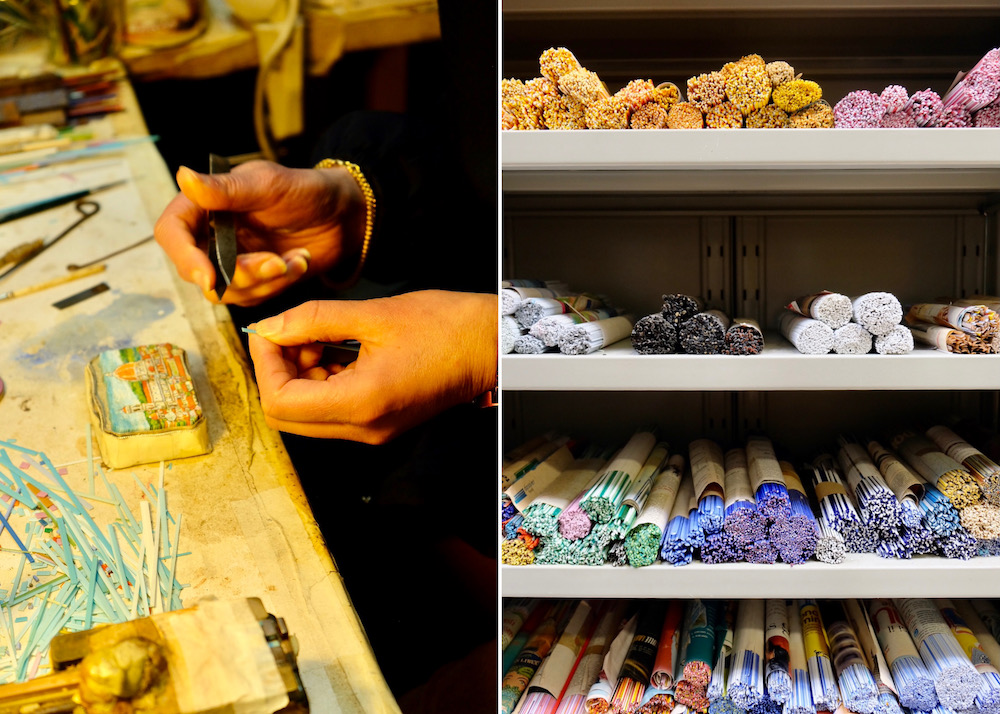 This all began with Traversari's founder Arturo around the end of the 1870s when it was just a small souvenir store in Via Ser Ventura Monaci, in the Piazza Ferrucci area, but it has already established itself for its high-quality micro-mosaic costume jewelry.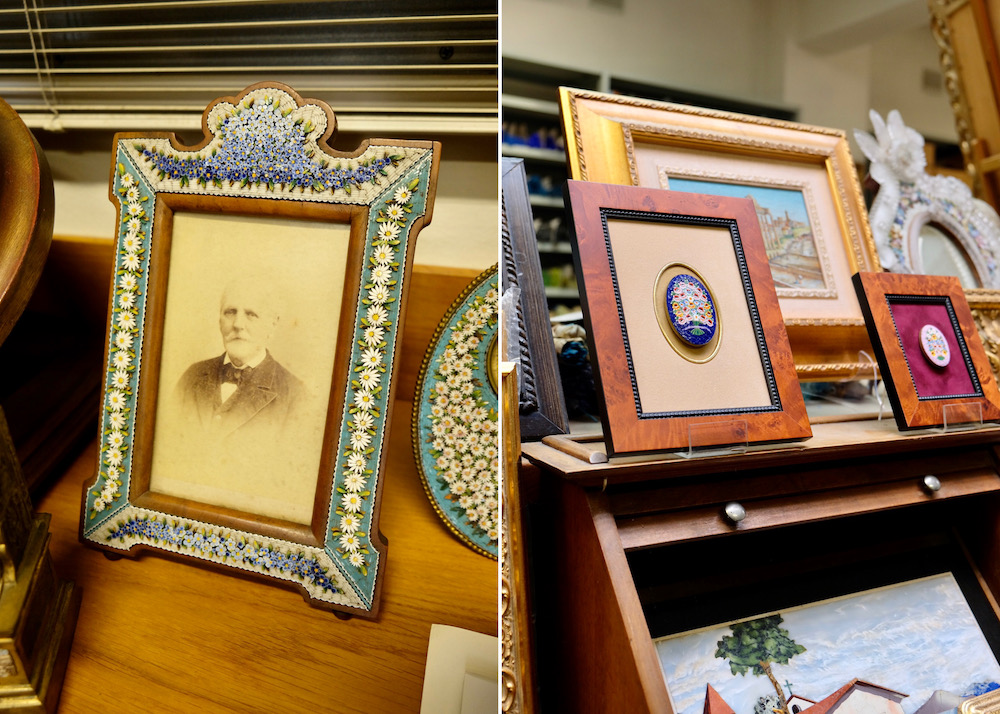 In 1944 the business passed into the hands of Arturo's two sons, Alfredo and Aldo, (hence the name Fratelli Traversari) who, in Via Pindemonte, successfully continued the production of earrings, rings, brooches, bracelets, frames and crosses in micro-mosaic.
Later, the business moved to Via Lorenzo Bellini and in the seventies, the management passed into the hands of Alfredo's son, Franco, who, at the age of twenty-five, started the production of micro-mosaic pictures, cut glass and Florentine semi-precious stones. It's the kind of job that also involves a pretty in-depth knowledge of geology to understand the kinds of stones needed for the works and where to procure them.
You can see the commesso mosaic in hard natural stone example at the Medici Chapels, "Cappella dei Principi", next to the Church of S.Lorenzo. The chapel represents the first example of that mosaic inlay, entirely made with marbles and precious hard stones, of which Florence was the exclusive center of production from the 16th to the 19th century, called the "Commesso Fiorentino."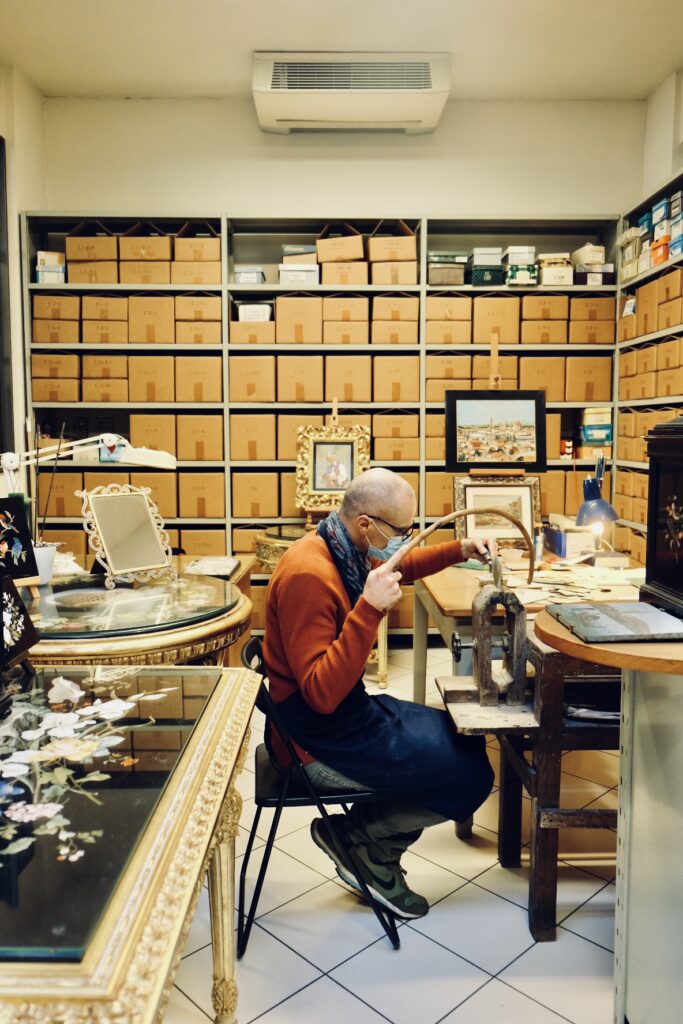 To keep the tradition alive, the workshop relies on a small number of highly qualified collaborators who have allowed the company to grow and to reach a very high level of quality recognized by insiders. In fact, particular mention should be made of master mosaicist Denis, who has been part of the family for many years and represents a point of reference for all the other mosaicists.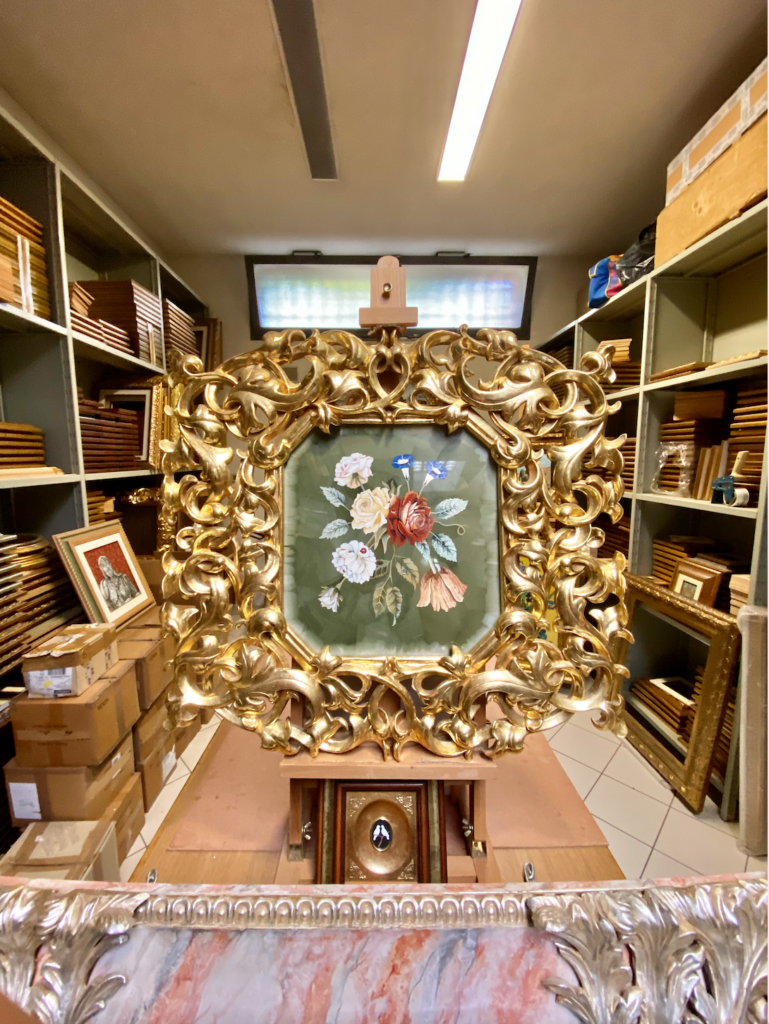 For some years now, Franco's two children, Daniele and Letizia, have also been actively involved in the company and they were the ones to invite me to learn more about their craft. Together with their cousin Lorenzo, who specializes in mosaic made of semi-precious stones, they have managed to bring the company into the digital age as best they can, without however renouncing the uniqueness and quality of an ancient craft.
High Fashion Meets Traditional Craftsmanship
One memorable pre-pandemic collaboration occurred on September 2nd and 3rd of last year when fashion brand Dolce & Gabbana organized two very special events in Florence at the Palazzo Vecchio and Villa Bardini called "The Rebirth and the Renaissance."
The micro-mosaics and the "commesso fiorentino" by Mosaici Traversari were featured in the Alta Gioielleria, Alta Sartoria and Alta Moda events, shining light on artisanal excellence.#DGLovesTuscany@pittimmagine pic.twitter.com/GSIi0oVUMk

— Dolce & Gabbana (@dolcegabbana) September 5, 2020
Founders Domenico Dolce and Stefano Gabbana chose the products of the best Florentine craftsmen in order to match with their amazing creations. Fratelli Travasari Mosaici had pieces featured on the runway at Salone dei Cinquecento (think clutches, shoes brooches and even clothing) while larger works were displayed at Villa Bardini.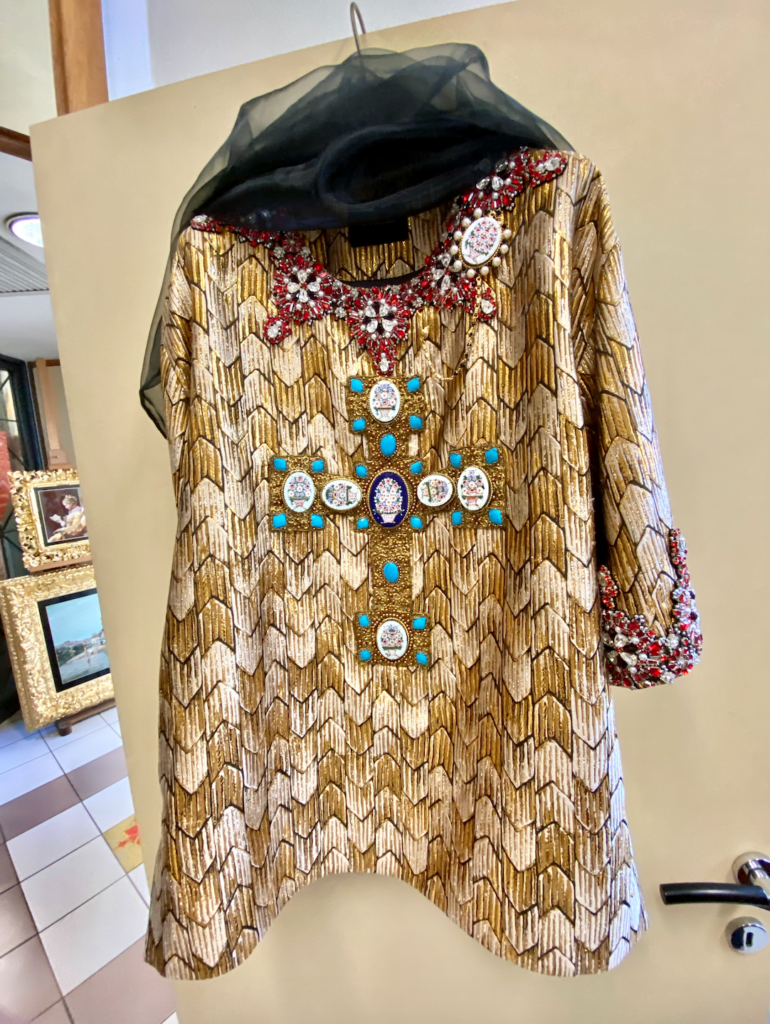 Mosaic-making like that of Letizia, Daniele and whomever continues the family business is a labor intensive job and one that doesn't come cheap, but the way I envision these sorts of souvenirs is that you'd be buying something that would become a family heirloom that can be passed down your own family of Florence, Italy lovers.
The best part is that they are able to customize pieces, whether it be a work for the wall, a table, a brooch, really anything. They also make silver and gilded brass costume jewellery with spun enamel glass micromosaic (earrings, rings, pins, bracelets, pendents, pill boxes, frames, crosses) and costume jewellery in hard stone mosaic (pendents, pins, earrings) which are a little kinder to your wallet than the larger works of art/tabletops.
So far, they have been able to survive through word of mouth in the interior designer and craftsmanship world or through visits by tour guides so you can only imagine how difficult it has been to keep up spirits during this very long and difficult year. Personally, it would be a damn shame if artisans like this were no longer able to continue their work. We need to celebrate what they do and highlight them in anyway possible so that future generations can benefit from this kind of Florentine artisan crasftmanship.
The next time you are in Florence, keep them on your radar for a visit (call/email ahead to make an appointment) to help one of the city's greatest artisan traditions stay alive.
I also highly recommend a visit to the museum of the Opificio delle Pietre Dure once they are able to reopen to gaze at wonderful pieces created in the Medicis' artistic gemstone factory, officially founded by Ferdinando I de' Medici in 1588.
Details:
Fratelli Traversari Mosaici
Visit from Monday to Friday by appointment only. 
Via Senese, 68/B, Firenze, FI, Italia – +39 055 221685 – http://www.traversarimosaici.it. Facebook & Instagram. 
Full disclaimer, this is a sponsored post but keep in mind that all opinions are my own and I hope that artisan craftsmanship like this in Florence stays alive for many more centuries to dazzle the next generations. I wish you luck Daniele & Letizia!