This Easter 2021 in Florence might be a little too reminiscent of 2020 in many ways (ugh) but there is hope that zona rossa and the limitations it brings won't last forever. Vaccines have begun and patience is simply what we all must embrace right now.
That being said. It's worth noting that Italy and the people who live there, remains one of the most resilient places I know, and for so many reasons. Over 110,00 lives have been tragically lost due to covid and the economic loss is almost too high to measure. I was reading that nearly 100,000 companies in Italy's tourism sector are at risk of bankruptcy, according to the research institute Demoskopika.
Despite that, the ability of people able to take in the small pleasures of nature and enjoy local, traditional treats despite so much uncertainty after a year plus of pandemic reality is pretty remarkable in my books.
One aspect of local Florentine culture that was sorely missed was Easter Sunday's Scoppio del Carro, or Explosion of the Cart. Every year (its origins date back to the First Crusade) the festivities take place with much pomp and circumstance in the piazza del Duomo square, normally with a large crowd of revelers watching the show before heading to a large, large lunch.
The fun all centered around a historical procession and a wooden cart named the "Brindellone" loaded with fireworks to be blown up in the square after the dove-shaped rocket (symbolizing the Holy Spirit) flies out of the Cathedral of Santa Maria del Fiore to "kick off" the fireworks. Its as crazy as it sounds (see below video of past editions).
This year the proverbial show will go on but without the crowds that normally surround the Duomo. The area itself will be entirely closed off to the public but everyone can tune in on Toscana TV at 11 am CET on Sunday, April 4th. I also highly recommend you check out the LIVE IG feed of the Instagram account @WindowtotheDuomo by friend Danella (who has literally a view over Piazza Duomo so you can view the action from her window).  She'll also start streaming from around 10:45 CET.
For church services and other helpful tips for celebrating Easter (including a handy roundup of who is offering take-away options locally) – check out this list by The Florentine.
To make this Easter even more delicious a kind soul and private chef who has lived between Italy and Australia for several years, Kara Mallia, has offered GirlinFlorence readers her recipe for a special Easter Torta di riso (a type of Tuscan custard rice pudding)
Tuscan custard rice pudding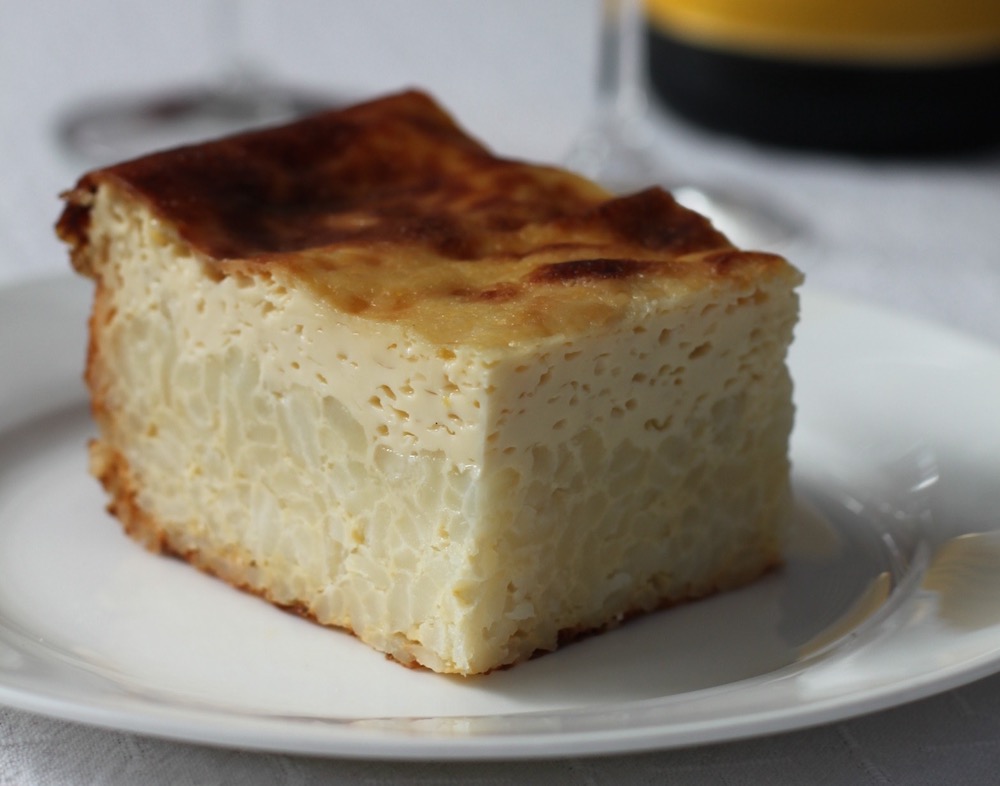 Look no further, this is a quintessential Tuscan recipe traditionally served at Easter time.
There are two defining components to this dessert. The top layer is reminiscent of the texture of crème caramel, yet the bottom layer is dense from the combination of rice being bound together with the sweet custard mixture.
The tradition is to cook this in a terracotta pan, in fact, many Tuscan families still use the original family pan. Often you can still see the family's surname scripted on the side. Before ovens could be commonly found in every household, the terracotta pans were brought to the community village wood-fired oven and baked after bread. Just imagine that!
Although the recipe varies from region to region, household to household, the general ingredients are the same, the notable difference is the height, ranging from two fingers high to four. This recipe is for the latter and was kindly bestowed upon me by a friend's grandmother, Nonna Carla.
This is a classic example of 'cucina casareccia' (home cooking), as it is economical to make, super easy and in true Italian style, it is made to serve many people.
If there are any leftovers, they are perfect for breakfast on Pasquetta, the day after Easter.
Difficulty level: easy
Cooking time: 2 1/2 hours including preparation
Cost: low
Ingredients:
– 2 liters of full cream milk
– 1/2 cup icing sugar
– 2 cups of regular sugar
– 1 cup of mixed liquor (sambuca, brandy or rum)
– 16 eggs
– 1 vanilla bean
– 1 cup of arborio or carnaroli rice
– zest of one lemon
Note: Original recipe uses 1/2 a cup of vanilla flavoured icing sugar as with most Italian cake recipes, however I prefer using a natural vanilla bean.
Size: Will make one large 28cm solid-bottomed round cake pan.
Method:
Preheat oven to 200°C.
In a large saucepan cook rice in one liter of simmering milk, together with 1/2 a cup of regular sugar. It will take about 25 minutes, pay attention that it does not stick. It is ready when the milk has been absorbed and the rice is soft.
Add the rest of the milk and sugar. Allow the mixture to cool.
Whisk the eggs separately and add to the milk mixture in the saucepan, then add the liquor and lemon zest. Combine well together.
Gently place in a large baking tray and cook for about 2 hours or until a skewer comes out clean.
Allow to slightly cool before serving. Dust with icing sugar if desired.
TIP: To prevent the top of the cake from burning, place some aluminum foil loosely over the top after about 40 minutes of cooking or once it has nicely browned or the signature brown spots appear.