"You don't make a photograph just with a camera. You bring to the act of photography all the pictures you have seen, the books you have read, the music you have heard, the people you have loved."

—— Ansel Adams
It's safe to say that most people's lives dramatically changed during the pandemic. Routines and lifestyle were utterly disrupted, this was the same for our home, even though I have worked from home for 5+ years.
I consider myself a social being through-and-through, and sure, though alone time is super needed, I got more than I ever bargained for in 2020 and even now. My introvert needs have been covered for the next decade and then some.
Between stress about work, life, a lack of being able to plan, one positive thing from this past year was the ability to still discover some really interesting people, either through social media, IG, or the blog, Chao Li or "Alessio" as his Italian friends call him, is one of those people.
Chinese born and calling home Florence for three years, his photos on Instagram are a brilliant composition of life in the city.
He is both soft-spoken and optimistic. We met for a quick socially-distanced coffee during my last trip to Florence and he gave me a photography book compiled by Ful Magazine (a local magazine in Florence) compiled with photos from photographers capturing moments of the city during last year's lockdown. Chao's photos are present as well.
I especially appreciate his "prima e dopo" series featuring the city crowded with its usual swarms of tourists vs. how the city looks more or less now. This is a topic that has been super prevalent in the city council and local community like. Just this past week the local mayor spoke about regulating Airbnb short term rentals on a wider scale. It's all part of a plan to "rethink the future of Florence" and how we all want to coexist in the future.
In the mayor's words "The boat of our administration will chart new courses, but the destination has not changed: a liveable city, which takes care of its citizens, a sustainable city, a capital of a knowledge economy and technological development, which counterbalances the city's inevitable character as a tourist destination."
That being said I wanted to ask Chao Li a few questions about what brought him to this city, how he's been getting on and simply what brought him to capture these incredible moments.
Enjoy this interview and if you want to see more, please do subscribe to the blog. I have been working hard (and investing $$) in the last week or so to make much-needed improvements to the blog in regards to the theme, speed, and of course working on new content that I (hope) you'll love. I owe you an espresso!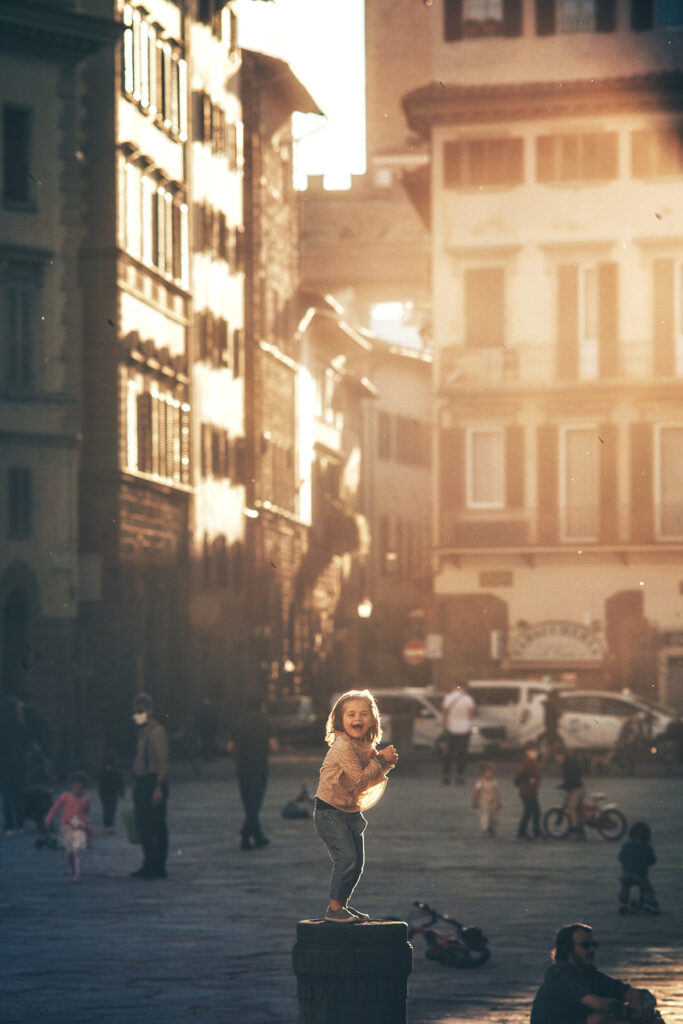 Alessio/ Chao Li, I so much appreciate you taking the time to answer some of my questions for the blog. I'm sure my readers will be curious about you so can you share with us a bit about yourself: where you are from and what brought you to Florence?
Ciao a tutti. It's definitely my honor to introduce myself through girlinflorence. I'm from Anhui China. My Chinese name is Chao Li. Sounds like "Ciao" in Italian, so sometimes my friends joke it's my fate to come to Italy lol.
Anyway, I came to Florence to complete my master's degree in communication at the Florence University. And of course, I chose Florence cause I had a dream of pursuing the art, and Florence itself completely embodies ART.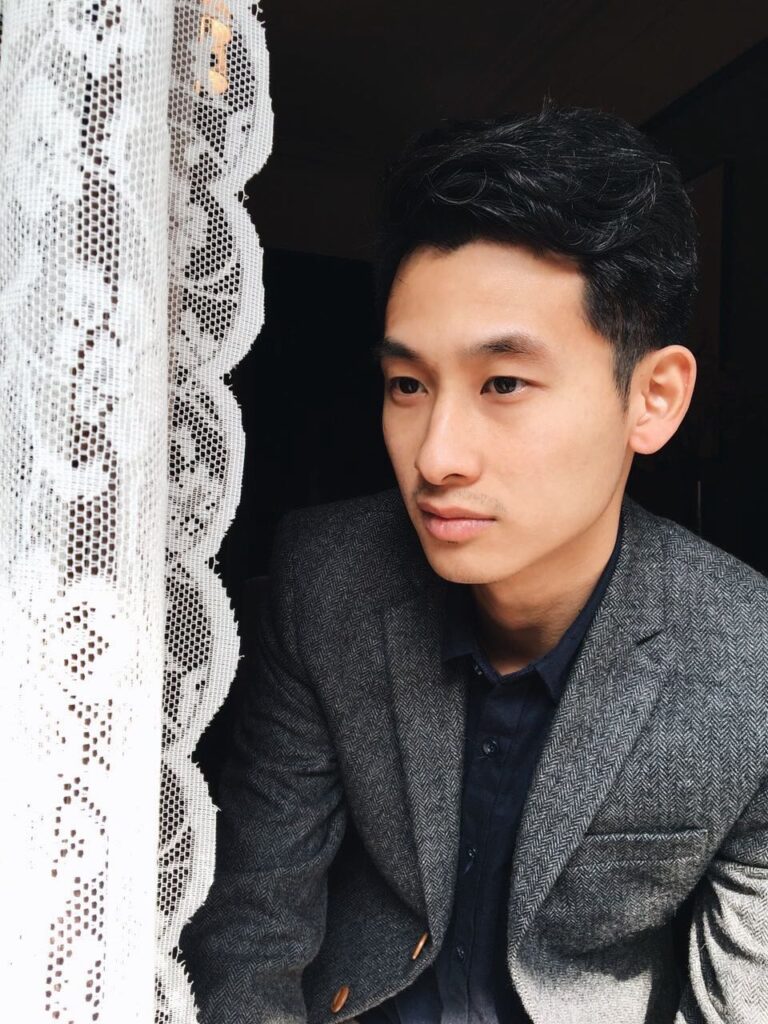 So in case readers are curious, I found you through Instagram, specifically your incredible photos with so much intricate detail. Has this always been a passion of yours and how have you evolved since starting?
YES, photography is always my passion and motivation in life.
To me. it's not just a technique. I treat it like a form of essay to express my philosophy for life and a tool to communicate with the world.
So in other words, the camera has become my eyes and my photos are a reflection of my life. Now the term "photographer" isn't solely an identity but serves also as my true existence.
Talking about how I evolved this passion into a profession, I think I'm really lucky in Florence. Both people and studios found and contacted me on Instagram to inquire about my photography services and it all started from there.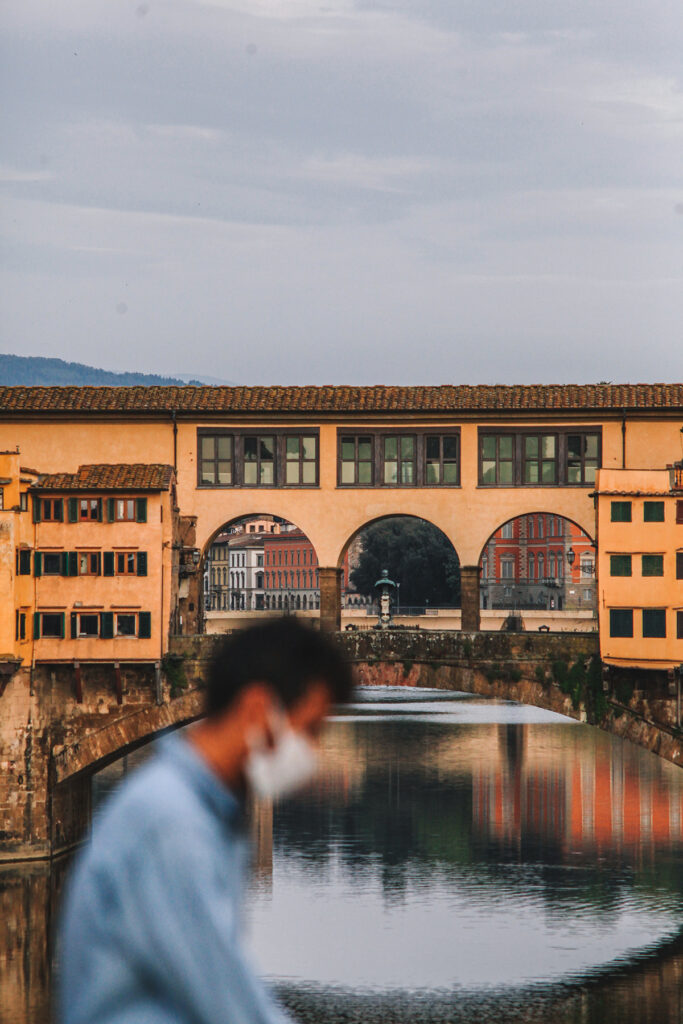 I think it's less "luck" and pure skill. I really mean that. I'm interested in knowing about your life in Florence considering you've been here for three years. What were some of your first impressions of the city and how Italian life merged with the tourism that existed at the time?
It's a quite interesting feeling moving to Florence (a city dating back to the middle ages, and then some) from a Chinese, modernized city. After 3 years living here, I got used to seeing people (tourists or traveling artists, students) visit here then leave. Always coming and going. I noticed that there are many small communities in this small town, and people are unified because of the same direction and the same phase of life.
I also noticed a huge mutation of this type of tourism destination after the pandemic. People had to stop moving, they had to choose Florence as their final destination or return home. Decisions that weren't easy, that weren't to be taken lightly.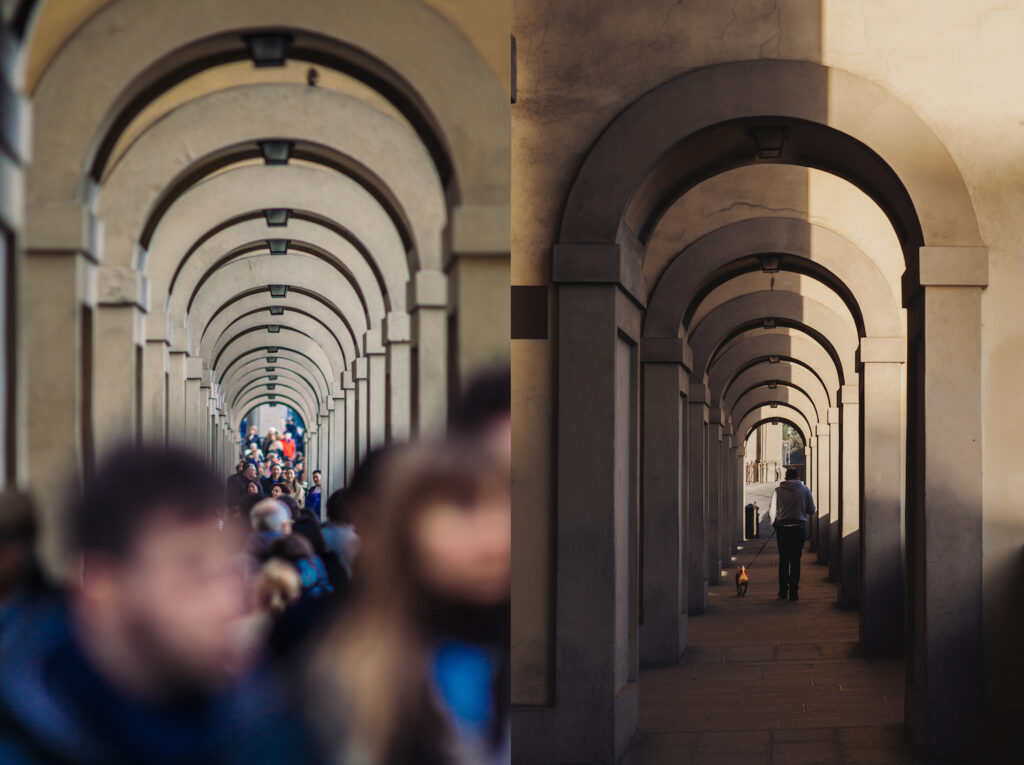 I think that is best represented in your photos from before "prima e dopo" and after in several iconic spots, like the Ponte Vecchio. As I know it was hard for me in the beginning, was it easy for you to integrate and make friends? How did you make this city your home?
In Florence, you have two great ways to have friends, by speaking good Italian and having a passion for the arts. Fortunately, I have both of them. So I was able to get some opportunities to work as a photographer, and when you get busy working in every corner of a city, naturally you will have a sense of belonging, just like at home.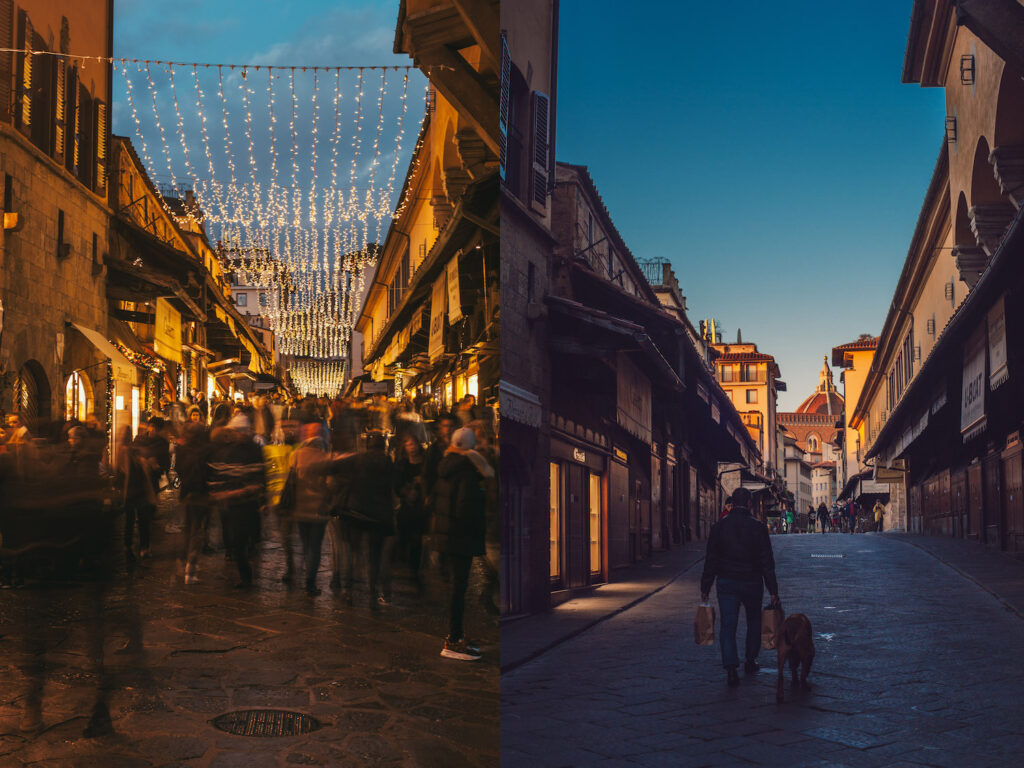 With your camera, what have been the catalysts of inspiration for your work? both before the pandemic and during?
As a photographer I'm sensitive to light, I feel the sunlight in Toscana is very special, very different from the sunlight in my hometown. And in my sensitive eyes, the air here even has colors. I think my obsession with the light seems like that I fell in love with an elegant and sentimental lady.
The sunlight makes the city view look like a painting. The extremely sharp sunlight makes different geometric shapes on the ground through the symbolic arches, and when comes the sunset, the sky made of blue, orange, and red is, in its way, a poem.
Gradually I understood the renaissance in Florence. The harmony of nature and human intelligent achievements freed people's souls, woke up humanity about pursuing truth and beauty.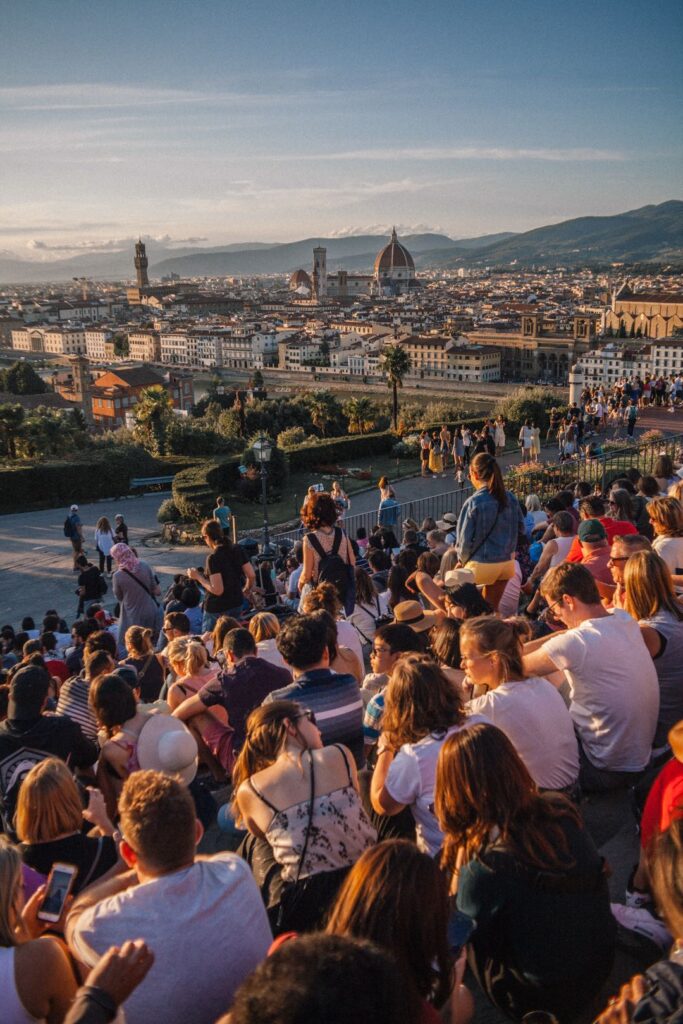 What tools do you use to create content?
I use Canon DSLR, and many old prime lenses, they are the secret to have a vintage emotional color style. For editing photos, I use Lightroom on PC, Snapseed on iPhone. Now for video making, I also use the stabilizer.
How do you see the city differently at this time. You were here for the first lockdown and throughout the aftermath (lockdowns and reopenings) has this experience changed the way you look through the lens?
"An UNREAL Silence"
This is my feeling when I stepped on the empty streets for taking documentary photos, after staying at home for 1 month from 09/03/2020. I could hear the birds calling on Ponte Vecchio and I was overwhelmed by a sentiment of illusion and being lost.
Before the lockdown, I was always on the street capturing everything I witnessed. For a Chinese boy, everything here is brand new. Naturally in the lockdown, I felt upset that my life rhythm was interrupted. So I tried to acquire photography permission from a local magazine to get on the street, fortunately, the photos were collected into a photo book about the LOCKDOWN.
After this experience, I was aware of the energy and humanity which the tourists brought to the city. That was a huge loss. This idea now motivates me to discover the connection between people and society more deeply through my lens.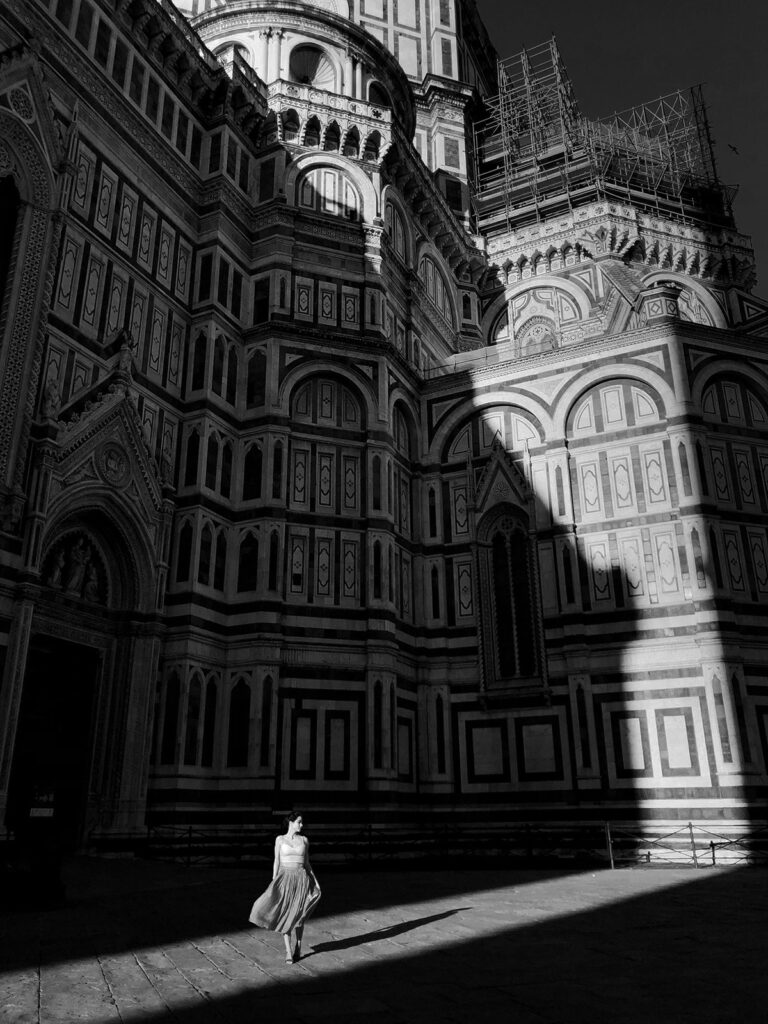 I made a comparison between the city before and during lockdown with my photos. We would see how powerless are the words when we need to describe a scene like this. So I sincerely advise you to watch the comparison of my photos rather than reading my words.
What do you plan on doing now? where can we find your work?
I will get my master's degree next year, then I will be a full-time freelance photographer and videomaker. I focus on professional food and musical images. On my Ig @alessiochao, I post pics videos almost everyday. My website is https://alessiochao.photo.blog/ , and on Ful magazine there will be serial reportages about communities in Florence with my photos.
Finally, any advice for those photographers or people who love to capture Italy in a variety of mediums?
Italian philosopher Benedetto Croce said: "L'arte e' intuizione" Art is instinct.
In Italy this artistic country, you can see how art is created by human instinct.
If you wanna shoot pictures that touch the heart, Get involved in the local culture and lifestyle, see how people live here, and capture those natural moments, they are sincere powerful images.